Strain Review: Espiritu Sanctum Bred by Goat and Monkey
ESPIRITU SANCTUM
Grown by Gud Gardens out in Southern Oregon, and Bred by Goat and Monkey Seed Co, this Trinity and Triangle Kush cross has some super staked, extremely resinous, and beautifully dense buds. It starts with a blue cheese and savory herb aroma but finishes sweet like an aged balsamic. Such a complex and unique smell it is one of the most interesting and delicious smells for a cannabis plant. Goat and Monkey have been releasing some very interesting feminized and regular crosses. This is one of the best strains we've seen from them in our garden. Stems perfectly angled and sturdy, holding up rock-hard buds with ease. Easy trim and smells that hit hard. Any easy cultivar to grow outdoors, filled out nicer every day. 
Other strains from Goat and Monkey are Valley Haze and Triangle S1.
THC | CBD: 29.97% | 0.08% 
Terpenes: 4.03% | Farnesene, Limonene, Caryophyllene  
Sub-species: Hybrid 
Material Insight:  Green buds, not crazy frosty but a delicious taste, and testing at 29% totally gives it a kick.
Breeder: Goat and Monkey Seed Co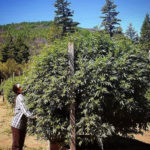 Callahan is the Assistant Manager and Communications Director at a largescale recreational cannabis farm and processing facility in Southern Oregon. If she's not hunting for the best cultivars in the garden, she's writing about them online.
Advertisements