Strain Review: Fig Face by Fig Farms
Strain: Fig Face
Who: @fig.farms
Lineage/Genetics: Purple Fig (?) x Animal Face
Indica or Sativa: Indica dominant Hybrid
Original Breeder: Fig Farms
Grower: Fig Farms
Dispensary: Connected Cannabis
Fig Face Strain Review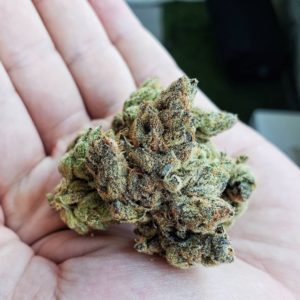 Stats: 20.08% THC – 0% CBD – Indica
Aroma: Sawdust, Cacao Bean, Soil, Coffee.
Taste: Clove, Cedar, Earth, Sunflower Seed, and a lingering creamy aftertaste.
Feeling: Relaxing. Great for insomnia.
Overall: These gorgeous buds look like diamonds when you pull them out. This is grown SO WELL. That being said, this strain is not for me. Maybe it's because it came dry af when I first got it from @connected_santaana (they also sold me an 1/8th of Fuelato last week that was even drier and was harvested almost a year ago. Bummer) my @bovedainc
packs haven't been able to save them yet. But damn, we pay so much $ for these 1/8ths and they just straight up give you some garbage sometimes. Anyway, rant over. Just disappointed with this one, can't wait to try another Fig Farms strain soon, but something a little more fresh, please?
The Fire Scale: 5/10 flamesuckas
🔥🔥🔥🔥🔥
#cannabis #420 #losangeles #lacannabis #weedporn #cannaseur #nugshot #fire #thefirescale #og #kush
#norcal #marijuana