Strain Review: London Pound Cake #75 (LPC75) by Cookies
Strain: London Pound #75 aka LPC75
Who: @cookiesenterprises
Lineage/Genetics: Nepali OG x Sunset Sherbert
Indica or Sativa: Indica dominant Hybrid
Original Breeder: Cookies Fam Genetics
Grower: Cookies California
Dispensary: Cookies Melrose
London Pound Cake #75 (LPC75) Strain Review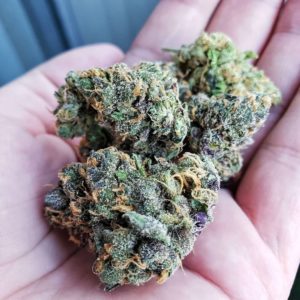 Stats: 15.19% THC – .19% CBD – Sativa Hybrid
Aroma: Straight up lemon floor cleaner, like Pledge or Mr. Clean.
Taste: Definitely strong citrus flavor, it's sweet, but a little more on the sour side, like lemonade that doesn't have enough sugar. As promised, bakery notes are present, but don't expect poundt cake. It's something more like sourdough bread. A little gassy.
Feeling: Relaxing. A little spacey.
Overall: Another Cookies strain that's got a lotta hype and does it deliver? Well, that depends on what you're looking for. I call this a flavor saver type of #weed. It definitely smokes better than some 30%+ strains that I've had, and the low THC % is misleading, because the "entourage" effect is strong here. This is a quality strain and should be at least tried once for it's unique properties.
The Fire Scale: 8/10 flamey-flames
🔥🔥🔥🔥🔥🔥🔥🔥
#cannabis #420 #losangeles #lacannabis #weedporn #cannaseur #nugshot #fire #thefirescale #og #kush #flavortown #terps
Advertisements