Strain Review: Guava Nectar by 5 Points LA
Guava Nectar
By @backpackboyz420__41510 @______backpackboyz420 and @5points.la
Genetics Unknown
Gifted by @_terpyturtles_
Lineage/Genetics: Unknown
Original Breeder: Unknown
Grower: 5 Points LA
Distributor: Backpack Boyz
Guava Nectar Strain Review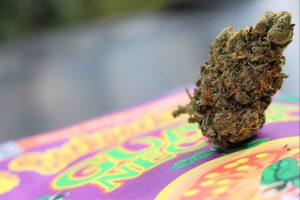 Appearance – Upon opening the bag I revealed beautiful fluffy frosted nugsthat had a very unique structure some fat and fluffy some almost arrow like in shape, I even had one that curled and looked like the silhouette of a rooster. The tones consisted of deep purple tones that flowed into the flower mixing in with forest green, earth green and a array of wild curling orange pistils throughout the flower.
Smell – At first sniff out of the bag my nose was met with a slight mix of tropical fruit but quickly turned to a creamy earthy coconut like scent not what I was expecting but was a very nice suprise. Out of the bag the mix of exotic fruits are a little more prominent sweet yet a little sour with a smooth creamy earth on the back end.
Taste – On the dry pull of the jay my mouth was met with an amazing mix of fruit that just screamed light me up! As I inhaled my palette filled with a rich thick creamy earth that I must say I was a little let down by, there was a hint of the fruit but was over powered by the earthiness through and through, the inhale was quite expansive on the lungs and will send you into a coughing fit that would make an entire room stare at you, the exhale was not much different except for it was alot smoother coming back up than going down and remained very rich and earthy.
Effects – It was around 3/4 of the way down that the buzz began to soak in a little as I began to become very relaxed as I slowly feel myself slipping into a mellow place, I finished the joint and i could feel a heaviness weighing down my neck, arms and shoulders, A uplifting clearness begins to settle in my mind as I sit back and enjoy. About 10 mins goes by and i can feel my eyes getting heavy as I stare into my page, i would say this is deffinetly a after work or night time toke for myself as when i smoke this strain I could do stuff but I'm not going to at all, a good one if you dont have shit to do. I would reccomend this strain to beginners and long time tokers as the high is not super over powering but will leave you like a feather blowing in the wind.
I give this cut of this strain 4 stars ⭐⭐⭐⭐, as far as the looks, smell, effects and bag appeal it had it all, the flavor tho was just a little bit of a disappointment, I was expecting a flurry of tasty delicous tropical fruits and when it was mostly leaning towards the earthy side of things I was like damn, now the taste was not bad just not what I was expecting.
Overall this strain was a great smoke that had a nice creeping stone that left me in a calm state of mind but not completely in a coma. To @backpackboyz420__41510 and @5points.la keep up the great work as everything that I have had the pleasure to enjoy has been a very nice enjoyable toke and has been a fine example of cannabis.
To @_terpyturtles_ many thanks for the gifts as I've got a few more to go through this month. Have a safe wonderful week everyone and stay medicated!!!!!🦖🦖🦖
#cannasuer #initiative71 #cannabiscommunity #dcweedevents #massachusettscannabis #massachusettscannabiscommunity #worcestercannabis #designerweed #i71 #i71compliant #weedreviews #cannabisreviews #420reviews #backpackboyz #dccannabiscommunity