Strain Review: Iced Oatmeal Cookies by O.C.D. Farms
Iced Oatmeal Cookies – @two_strains707
Nose: Sweet, Floral, gassy, vanilla
Inhale: Sweet, floral, gassy, musty, doughy, ginger, pepper
Exhale: Burnt rubber, musty, vanilla cake frosting
Lineage/Genetics 🧬: Gushers bag seed (via Connected Cannabis)
Bred by: O.C.D. Farms (Two Strains 707) @two_strains707 (best guess)
Grown by: O.C.D. Farms @ocdfarms (best guess)
Terpene Profile: Unknown
Iced Oatmeal Cookie Cannabis Cultivar Review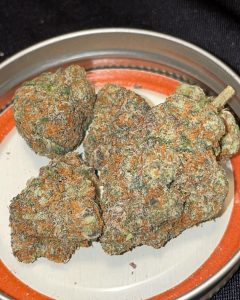 Hey what's up everyone? I have a good one for all of you today for the first review of the week as well as a first timer. Two Strains 707, whom I believe hails from the Emerald Traingle, specifically Mendocino County in Cali, has created quite the buzz for themselves over the years with their extensive pheno hunts and flavorful profiles. They first caught my attention a little over a year ago on IG when I was first becoming acclimated with various known and no-name brands of cannabis, respectively, at this time. I kept hearing how good the Gelato415 was when I noticed other strains they've honed including: Polynesian Sweet Rolls, Red Gushers, Dirty Diana, and a handful of others. Upon diving into their Instagram some more, I discovered they have run some solid pheno hunts over the past few years. The two that captured my attention were the Gelato 41 and Gushers, respectively. Recently, when a friend gifted me with some of their Iced Oatmeal Cookies to try I was ecstatic. Upon receiving it, I had a huge speculation by the looks of it that it was part of the Gushers pheno hunt although I could not confirm that 100% upon my research. Since that that original speculation, Two Strains has contacted me and informed me that the Iced Oatmeal cookie was indeed a Gushers bag seed from Connected that they received from a friend. Let's waste no more time and get into the facts.
The Iced Oatmeal Cookies came in a larger, rectangular-shaped Mylar bag with a completely see-through backside to view the buds without taking them out of the package. Minus the cover art, I felt like the shape of the bag brought you back 5 years before the Mylar bag movement took over.
The cover art depicted a provocatively voluptuous woman (don't tell my fiancé) wearing a suggestive apron with some Pink 1s on. She smiled holding a tray of iced oatmeal cookies and a bone in one hand with a spoon in the other. I thought this packaging was exceptionally detailed and vibrant to say the least. Especially the peak pro that sneakily sat next to a tray of more cookies. The bag appeal on this certainly built anticipation towards the potential quality of smoke this might have.
When I opened up the packaging on the Iced Oatmeal Cookies, the gassy aroma from this cultivar smacked me in the face and filled the air with a vanilla cake frosting doused in petroleum type smell. The nugs were mid-sized but ended up capturing my attention with their color. Tons of bright-Orange pistils stood out in the midst of a bright green structure with some violet and blue spots mixed with in. The aesthetics on this were considerably appealing and reminded me of the multi-color makeup you typically see in a Gushers cultivar. Each bud was as dense as a rock as well as sticky. This didn't necessarily mean that the Iced Oatmeal Cookies was difficult to break up due to this nature. The yield upon breaking up the buds resulted in better bang for my buck than I was expecting. Once broken down, I caught a strong whiff of diesel and a faint smell of oatmeal cookie which. Additionally, the purple hues within the structure were more noticeable once cracked open. I was able to fill the joint out nicely with the break down . On the dry pull, I received a gassy flavor similar to the nose which, personally, had flavor combination of vanilla icing and cat piss.
When I sparked the Ice Oatmeal Cookies, a huge flare of sweet diesel and vanilla ginger were felt from the initial inhales. Furthermore, I captured a big floral taste during this as well which accompanied that sweet taste. The sweet, rich vanilla terps stood out the clearest but each pull was more overpowering than the last. On the way out, the vanilla taste carried through which intertwined with a musty burnt rubber taste. The follow through was as gassy as the inhale which led to some coughing throughout the sesh. During some points early on, I received a presence of cakey/doughy terps when trying to dissect the complex flavor profile this had. A little ways into the sesh (near the half way mark) I started to pull in more of those ginger and peppery tasting terps I had mentioned earlier with that familiar sweetness. There was also a weird sour citrus taste admitted during this point but didn't stay for too long. Personally, this doesn't surprise me that this is a Gushers bag seed based on the smorgasbord of taste as well as the overwhelmingly gaseous pulls. The Iced Oatmeal Cookies had a very nice and even burn to it resulting in white ash with a spotty drip on it. Toward the end, the flavor did get a little more tart but still drew in a decent amount of flavor. All in all, I felt like this was an incredibly potent smoke that packed an awfully unique flavor when lighting up.
The heavy pressure and coughing caused by the Iced Oatmeal Cookies allowed the medicinal effects to kick in right away throughout the sesh. By the time I was putting the joint out I felt a strong body high come on which took over my head & shoulder quickly.
Despite the anticipation of this being an overbearing high from the coughing, this was perfectly relaxing. I didn't feel as if my perception was too out of whack and that I was able to carry on an extensive, constructive conversations regardless of how sedating the effects were. Nonetheless, this was a crippling high for the most part which was mostly enjoyed while kicking back and watching the game, especially on a laid back weekend. About an hour in on this one I did feel a bit sleepy and, a couple times, I remember taking a good afternoon nap on this one. Other noticeable effects the Iced Oatmeal Cookies fed was its mood-lifting effects as well as a slight racey feeling right at the beginning of the high. This high last a good 2 hours and was not for the weak of heart.
My recommendation for the Iced Oatmeal Cookies is that this should be enjoyed by the heavyweights. As I mentioned throughout various points of the review, this is a heavily gaseous smoke that is not designed for those with a weaker lung capacity. This cultivar will most certainly be enjoyed by those who love to explore new, and complex flavor and taste profiles. Especially, if you're one who enjoys a mix of sweet and gas this is sure to be right up your alley. This will also appeal to those who enjoy a knockout smoke or sitting back on a chill day slumped out. With that being said, I believe this cultivar would work hand in hand for those struggling with mood-related illnesses such as anger, depression, or for more milder cases such as having a bad day. Additionally, this is guaranteed to work wonders for those struggling with sleep loss or isomnia based off the sedating, sleepy effects I felt deep into the sesh. To be quite honest, I am happy I finally had the chance to try a cultivar being offered by Two Strains 707 and felt like they made a good first impression with their Iced Oatmeal Cookies. I hope to see some more from these guys coming this way soon!