Strain Review: Island Berries by Georgetown Flavors
ISLAND BERRIES
Lineage/Genetics: Rascals x WiFi OG
Original Breeder: Islands Boyz Exotics
Grower: Georgetown Flavors
Island Berries Strain Review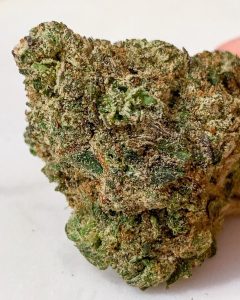 By: @georgetownflavors.lookbook @georgetownflavors.rep
Via: @islandboyzexotics_official1
Island Berries boasts a trichome heavy exterior and a dense forest green bud structure, with sparse but attractive shades of violet and blueberry throughout. White Fire (WiFi) genetics are particularly pronounced evidenced by its sugary exterior, but the nose and grind lean on its Rascals lineage.
Island Berries tastes of sweet pine, berry and citrus with a sour finish. Less overtly fruity than Rascals, the infusion of Wifi adds a more classic kush taste, all the while retaining a noticeable "tropical berry" profile.
Island Berries is a fast-acting strain which begins with a warming cerebral flush. You just know this strain is high in THC based on the head change. A mood improver, and relaxation inducing, Island Berries hits like an Indica, but it's effects won't knock you out.
#Budfinder
•
•
•
•
#dcbud #420 #dcweed #stoner #marijuana #dccannabisculture #budtender #strainfinder #thc #dcgrown #dcgrowers #cannabisdaily #dccannabis #dcdabbers #dcedibles #puffpuffpass #dcnightlife #dmv420 #topshelf #devilslettuce #stoner #whiteashonly #islandberries #islandboyz