Strain Review: King's Cake by Kings Garden
New Review! #thursdaytriplethreat @kingsgarden.ca x 3 different reviewers. Let's see how it rolls and make sure to follow the homies @sjweedreview & @theghettotreeconnoisseur for their thoughts on it. Main page @westcoastsmokeshow
Strain: King's Cake
Lineage/Genetics: Granddaddy Purple x Mystic Gem
Indica or Sativa: Indica dominant Hybrid
Original Breeder: Golden Beaver Farms
Grower: King's Garden
Brand: King's Garden
26.168%THC
King Cake Strain Review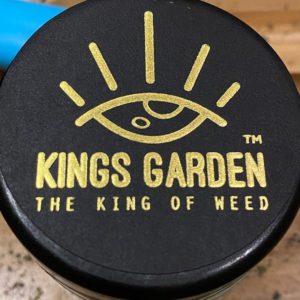 Comments: First group review with the team. We are going to be doing of these in the future so make sure you give a follow to the homies. Kings Garden has been a regular pick me up for about 2 years now. Let's see what went down.
Review:
1. Scent: Kinda muted Kush-sweet smell to it off the jar. The sweet is sorta cross between oil of Olay and like another fruit I can't place.
2. Appearance: Orange goobers is what comes to mind for me as the hairs wrap around the tip but the hand cut buds did have some leaf on them. NBD but worth the mention.
3. Nug Structure: Tight but not dense buds. I find these types are great for grinders because the kief extra, yet it was not super dry or dusty.
4. Smoke: Nice for the first session. Today I def had chest grab and coughing tho (day 2) and note first smoke of the day. Now a few days since pick up and I find this to be rather 50/50 on each hit. Could make ya choke or could make it smooth. Undetermined right now. After another first smoke of the day, the chest grab and cough for sure be hitting. GF noted it was harsher today than first session.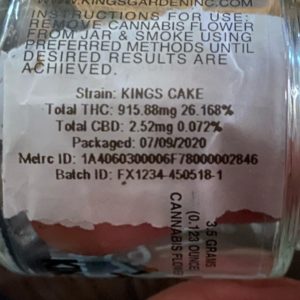 5. Taste: Has a pine taste but less so on 2nd rip. However, when exhaling through the nose I found a zing of pepper. Not getting the sweetness I found when smelling the jar.
6. Reaction: Smoked nice but the head change isn't happening yet. I'll check back another day for full coverage. Now it's been like 3-4 days and I'm finding the head change is a creeper, but doesn't kick your ass. I'm having no issue doing normal every day stuff.
7. Conclusion: Would prob grab again…but I had some real fuego from kings in the past, so this was decent but not the best. Sounds half way snobby but TREAL talk, their KGB was a better review which had lower THC. Same ticket price but would lean KGB over this next time. Not a bad smoke by any means, but not their best from my experience.
#cannabiscommunity #cannabis #cannabisreviews #trees #weed #weedreviews #pot #potreviews #thc #sacramento #916 #420 #yee #legal #strainreview #california #valley #thehighestcritic #kingcake #stockton #sanjose #209 #408
Advertisements