Strain Review: Lemon Cherry Frittlez by F.R.I.T.Z.
Lemon Cherry Frittlez (Genetics Unknown) from @fritz_philly @fritz_nyc @fritz_la @fritz_bkqnz via @fritz_philly
Lineage/Genetics: Unknown
Original Breeder: F.R.I.T.Z.
Dispensary: F.R.I.T.Z.
Lemon Cherry Frittlez Strain Review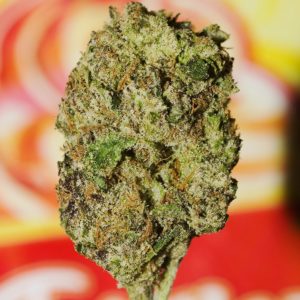 Back with more Fritz strains, grabbing the Lemon Cherry Frittlez was an easy choice based on my luck with these kinds of terps. As soon as I open the bag, nice green flowery tones with sweet-tart cherry candy greet my nose, and leave it with a bright zesty citrus tone that is somewhat tea like. Immediately I was reminded of 41 Cherriez or Super Lemon Cherry from Don Merfos. Everything before rolling it up was indicating I was in for a treat.
Quickly putting this into a joint and smoking it, I noticed that flowery herbal essence from the scent I mentioned start to quickly coat my taste buds. After a few hits, the flavor becomes insanely sweet, and reminds me of a melted sorbet or strawberry starburst. This sweet flavor stuck with me until the end of the joint. It was only until about the last quarter that woodier, smokey, cream like flavor showed up but was still overpowered by the sweetness.
These buds were nice cured and well trimmed. The nugs broke down with ease and had a very nice play-doh like texture which made it easy to roll/pack up. I got a good coating of resin on my fingers after breaking up the Lemon Cherry Frittlez, and a crazy burst of candy like flavor hitting my nose as it gets rolled into a joint. I remember the effects from these sweet smelling buds to be quite fierce. Initially you get your heavy eyes with euphoria, but after a good 20 mins or so it creeps up on you and you're locked into whatever you are sitting/standing on. I also felt calm and free of any anxiety. This is a strain I will be coming back to whenever possible.
This review among others can also be found at BigWhiteAsh.com
Advertisements