Strain Review: Sunset Mac by Fuego Family Farms
4/5 Yee
@fuegofamilyfarms
@trunorcal420_
Brand: Fuego Family Farms
Cultivar: Sunset Mac
Lineage/Genetics: Sunset x Miracle Alien Cookies
Original Breeder: Capulator
Grower: Fuego Family Farms
Sunset Mac Strain Review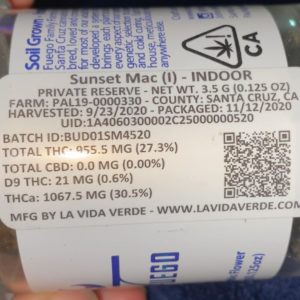 Total THC: 27.3%
Total CBD: 0%
Delta 9 THC: 0.6%
THCa: 30.5%
Harvest Date: 9/23/2020
Package Date: 11/12/2020
Comments: Big fan of their Glitter box and previously skipped this but finally decided to scoop it. Let's see what's crackin.
Review
1. Scent: Twang of sour notes to start. Hits of gas and then it moves to lime. Mild Jack tones.
2. Appearance: Jagged lookin with tons of lighter colored hairs and nice green to slight purple tones. Love the trichomes.
3. Nug Structure: Older harvest but still good sticky fingers off the hand break. I'm pretty pleased with the way it breaks down.
4. Smoke: On the lighter side of a smoke off the first puff. Rolls out nice, nose slightly tickles.
5. Taste: Little sour tones, more of a earthy skunk that eventually lets a small amount of rubbery gas.
6. Reaction: Def a terp that I'm liking, no comment from the lady so it wasn't Jack enough for her to dislike. Yay.
7. Conclusion: Yee liked their glitter box more than this head style high but still smashed thru it fairly quickly. Would prob skip for another one due to the Jack style Terp for the misses. But I gobbled this up.
#NoHashTagz