Strain Review: Acapulco Gold by Rio Vista Farms
4/6 Countdown to 4/20
@riovistafarms
@fireonthedelta
@trunorcal420_
#yee
Brand: Rio Vista Farms
Cultivar: Acapulco Gold
Lineage/Genetics: Mexican landrace
Original Breeder: Unknown
Grower: Rio Vista Farms
Rio Vista Farms Acapulco Gold Strain Review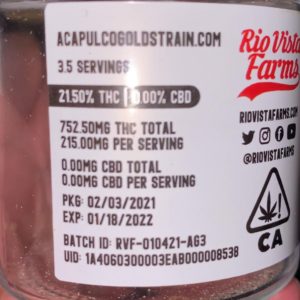 21.50% THC
0% CBD
Pkg Date: 2/3/2021
Comments: Love an Old School flavor! (Or at least the name lol) here we have a Sativa from our friends in Rio. Let's see what's up.
Review
1. Scent: Getting a hint of a spearmint and a bit spice. Interesting.
2. Appearance: Purple and red are on the eyes of this. Sugar leaves here n there.
3. Nug Structure: Little dry but not dusted out using the grinder, but I'll go by hand like I did for their PBB.
4. Smoke: warm on the nose and throat. Easy off the bubbler no worries. Def a warm one tho.
5. Taste: Reminds me of purple punch and some Sativa leaning haze type of vibe.
6. Reaction: First smoke of the day and the eyes are low. Nothing to report on the body yet, which makes sense on the Sativa. 30-45 mins in and I'm def feeling stoned but im watching a movie so a refill was needed.
7. Conclusion: Not really into Sativa strains lately, but this was an excellent change of pace which didnt weird out the misses on taste. The bud was a great ticket and would prob grab another. They def are farming some good flowers & would turn all my homies to this brand if ya can locate it.
#NoHashTagz
Advertisements