Drinkable Review: Uncle Arnie's Lemonade by Matt's High Soda
Yee 4/7 countdown to 420
@officialunclearnies
@mattshighsoda
@flyspacestation
Brand: Matt's High Soda / Uncle Arnie's Lemonade
Cultivar: THC drink
100 MG (10 x 10 servings) THC
Infused by: Vertosa
Uncle Arnie's Lemonade Review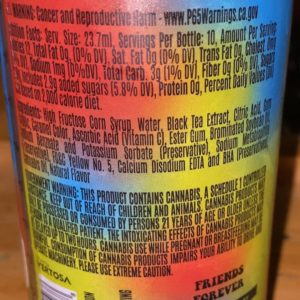 Comments: Yee! Body high for the win! Have been waiting to finally get this and wow, good times.
Review
1. Scent: Tangy lemonade style with a no cannabis odor but kinda reminds me of a mixed drink from the Smirnoff Ice days. 😂🤦‍♀️
2. Appearance: It has a bit of a milky look/cloud to the solution. But isn't goopy like a syrup at all.
3. Nug Structure: N/A – cool logo on packaging and it's a twist off so that helps to keep it fresh/ use on a when needed basis.
4. Smoke: N/A
5. Taste: Kinda weird at first but you get a lemon rush and a bit of a salivating refreshing bursts afterwords. It's pretty mild THC but it does the trick! You know the biggest turn off is an overly powerful cannabis taste but this isn't bad at all.
6. Reaction: I've had one dose about 1.5 hrs ago and am trippin on how I'm high I'm feelin. Had a good session of gaming, packed a bowl, but didn't touch it. Senses are still functioning and I'm noticing a bit more creative actions on my movements while gamin. It's semi eye opening, again one dose so far.
7. Conclusion: Yee I'm a fan! It's a good body rush, allows for some deep sleep for those restless nights. No extra body high hang over either. I still have about 4 doses left in the fridge after about a month; so you can make it stretch and take as needed. Or to full Jon Snow and smash the whole thing like you fighting the white walkers. But Id to one dose at a time. I have had this for over 2 months and haven't polished it off yet. So the shelf life is still good but it's def gunna be gone soon.
#NoHashTagz