Strain Review: Lemon OG by TruFlower
Lemon OG- Hybrid
Lineage/Genetics: Lemon x OG Kush
Original Breeder: Apothecary Genetics
Grower: TruFlower
Dispensary: Trulieve
TruFlower Lemon OG Strain Review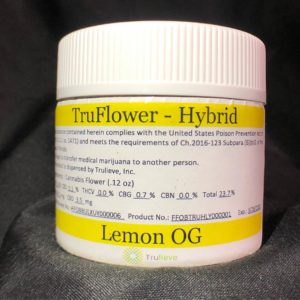 Thc: 22.9% cbd: 0.1% cbg: 0.7%
Recommended time of use: medicated around 2:30pm very body and focused feeling. Makes it great for an early to late afternoon type of strain. Maybe after work to relax your body and mind.
Head: mellow and happy thoughts without having an undetectable derpy smile which will eventually hurt your cheeks
Body:medium light body relaxation, I did some pull ups yesterday that I still feel so the strain is not a complete body sedative but it will relieve slight bodily discomforts.
Creativity/talkative: surprisingly very talkative, it really suppressed my social anxiety a lot. Might have made its spot on my top 5 favorite strains just because of that. Someone with anxiety will really heavily benefit from this strain, if have anxiety you need that lemon og in your life.
Hunger: I will go straight to the kitchen after finishing this review as the munchies have hit as soon as I finished medicating. I see this strain being very beneficial for someone who has problems eating a healthy amount of food on a daily basis. .
.
.
.
.
.
Ignore hashtags 😅👎🏼
.
.
.
.
.
.
#restlesslegsyndrome #trulieve #truliever #truflower #sunshine #cannabis #sunshinecannabis #sunshinestate #medicalmarijuana #marijuana #mmj #florida #miami #miamibeach #miamiweed #review #weedreviews #indica #sativa #hybrid #cbd #cannabinoid #thc #flower #instaweed #pictureoftheday #picoftheday #photooftheday #finally
Advertisements