Strain Review: MAC 1 by Entourage Company
MAC 1
Via: @ent.our.age.dc
@enter.our.age @entouragecompany
Lineage/Genetics: Alien Cookies f2 x 'Miracle 15' (Colombian Gold x Starfighter)
Original Breeder: Capulator
Grower: Entourage Company
Entourage MAC 1 Strain Review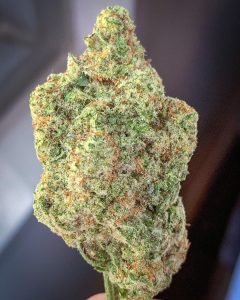 Today we take a look at MAC 1 gifted by @ent.our.age.dc a DC based delivery/curbside pickup service. This was my first interaction with this team, but I love how the operating – quick, easy, friendly gifting paired with some quality meds.
One of my favorite features of this cut of MAC 1 was its overall structure. Dense and plump, yet surprisingly malleable to the touch with a soft, airy texture. Examining the exterior, this MAC 1 displays alternating shades of pastel and parakeet greens, alongside flecks of muted lilac purples and caramel colored pistils. Of course, no MAC strain would be complete without a snowfall like coating of well developed trichomes, giving the bud a powdery, almost 'greasy' off white appearance.
The nose on this MAC 1 is very pungent, highlighted by a skunky-sweet nutty, earthy aroma. The flavor on this cut possess that all of that classic MAC 'doughy' flavor with a citrus zing giving the strain a sweet and sour feel. That malty dough turns to a peppery diesel and subtly cheesy/creamy kush on the backend and exhale.
Two quick bong rips left me in absolute daze. MAC 1's effects go straight to the head upon inhale filling the temples, yet emptying the mind with that immediate sense of pure pressure. After the initial shock to the system, MAC 1's high takes shape as a highly euphoric, spacey cerebral lift. I noticed an influx in creativity, but I found my attention span for singular tasks to be essentially nonexistent due to the stoney bliss. MAC is boasted as a balanced hybrid and rightfully so, however I found Indica like effects to take stronger effect as time wore on. Originating as a subtle, tension reducing body buzz, this MAC slowly shifts towards a more potent yet pleasurable couch lock. Once again, a big thanks to @ent.our.age.dc for the ⛽️ gift.
#Budfinder
•
•
•
•
#dcbud #dc420 #420 #dcweed #mdweed #stoner #marijuana #dccannabisculture #strainfinder #thc #dccannabis #dcdabbers #puffpuffpass #dopesmoke #dmv420 #topshelf #stoner #whiteashonly #cleanmeds #i71 #entouragedc #miraclealiencookies #mac1
Advertisements