Strain Review: Mike Larry by Jungle Boys
Strain: Mike Larry
Who: @jungleboys
Lineage: Gelato 45 x Larry OG F8
Original Breeder: Skunk House Genetics
Grower: Jungle Boys
Dispensary: TLC Collective
Mike Larry Strain Review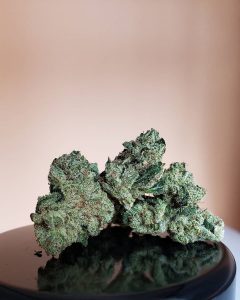 Stats: 30.99% THC – .11% CBD
36.29% Total Cannabinoids
Aroma: Pine Tree, Clove, Lemon Yogurt, Musty Roadkill.
Structure: Small-Med nugs. Not extremely sticky, but surprisingly fresh and spongey after a couple days with a Boveda. Breaks up without restriction.
Palate: Juniper Berries, Sweet & Sour Diesel, Bright Citrus Rind.
Effect: Average-High Strength. Left me clear-headed with a strong body high and slight head pressure. Relaxing, didn't knock me out.
Overall: Jungle Boys been slippin' hard as of late but this is strain is a 💎 Don't get me wrong, I love me some sweet, creamy gas, but I am getting a little bored of Gelato. But Larry OG comes in here, similar to what Fuelato from Connected is trying to do with SFV OG, and just takes it to another level.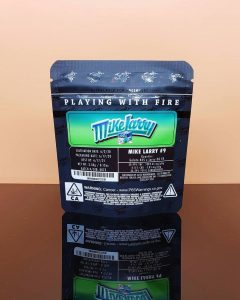 Before I tear open the bag, I have to take note that I have recently gone through Mitten Cake Batter, Kush Sorbet, and Ice Cream Cake, but didn't even end up snapping pics and talking about them because in all honesty they were sort of just mediocre. And I don't wanna bring you all the mids… we're here for the 🔥⛽🔥⛽ I joke… but it's true. I'm here to find the best, there will be some stinkers along the way because we do need to find out what NOT to buy as well. That being said, my rating system going forward is going to be even a little more aggressive. So let's press on.
As I tear open the bag the familiar musty G45 smell, similar to a wild animal, pops out at me. I am initially concerned, as I'm not hoping to find another gas heavy strain. Then, it takes a wonderful turn to the forest, citrus, and slight diesel notes that i get from the Larry.
My bag of bud is not particularly alluring, but I'm not dismissing it just yet. Lots of small-med nugs that have been flattened out by the bags. C'est La Vie.
Lower temperatures really bring out the lemon rind, sour diesel, and juniper notes while higher levels bring out more of the strong, sweet and funky gas from the Gelato.
In all, it's a great cut of classic 🍋 OG smoothed out by some modern Gelato, and it's fantastic.
The Fire Scale: 8/10 flamey-bah-loogas
🔥🔥🔥🔥🔥🔥🔥🔥
#cannaseur #nugshot #thefirescale #weedstagram420 #strainreview #wesmokedifferent #indica #sativa #hybrid #cannabiscommunity #stayhigh #weedstagram #hightimes #smokeweedeveryday #playingwithfire #jungleboys #larryog #gelato45
Advertisements