Strain Review: Milk of Mazar by Old World Organics
Sugar, spice, and everything nice: these are the things Milk of Mazar from @old_world_organics_llc is made from. Also, got some piney lemon notes when I really got my nose in there.
Lineage/Genetics: Mazar-i-Sharif 
Original Breeder: Unknown
Grower: Old World Organics
Milk of Mazar Strain Review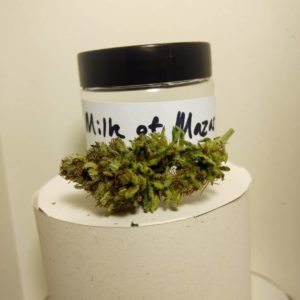 Powerpuff Girls jokes aside, I fucking love Afghani weed, especially Mazar i Sharif genetic lines. They produce such a unique scent, flavor, and effect profile. Any time you get an opportunity to try some "Shirak i Mazar", you should jump on it.
The smoke from this hashy masterpiece hit me right in the face. It was smooth like Afghani weed should be, but still left me choking.
The high is complex and hypnotic. I take Ativan for my anxiety (think Xanax's more powerful cousin), and its effects are probably the most comparable. Big blast of euphoric energy on the exhale that leaves you giggling and happy, but fades into a strong sedation after about an hour. Basically, you've got about an hour to clean out your fridge from the extreme munchies and get somewhere safe.
This was probably the least "pretty" weed that the homies from Old World gave me, but it was one of my favourites. Hash strains don't tend to make it to magazine covers, but they produce such unique, delicious terpene profiles. .
.
.
#thehighestcritic #oldworldorganics #strainreview #strainreviews #weedreviews #420review #portlandcannabis #OMMP #mmj #Medicate #portlandweedreviews #portlandcannabiscommunity #mmjpatient #medicalmarijuana #oregonweedreviews #pdxcannabiscommunity #oregoncannabiscommunity #pdxcannabis #oregoncannabis #wedontsmokethesame #weshouldsmoke #higherthanmost #justblazeig #weedstagram420 #420lifestyle #cannabiscommunity
Advertisements