Strain Review: Nurse Jackie by Med Men
Nurse Jackie- Sativa dominant strain
Lineage/Genetics: Jack the Ripper x Medicine Woman
Original Breeder: Subcool's The Dank
Grower: Med Men
Nurse Jackie Strain Review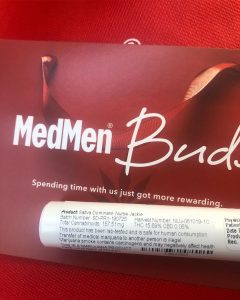 Thc: 15.69% Cbd: 0.06%
Recommended time of use: this is the perfect strain for a wake and bake or long trips as you do not get tired whatsoever and you become very aware of your sorroundings, Atleast that's how it made me feel.
Head: slowed things down not to the point of distraction but more of a focused state of mind which allowed me to be comfortable with the tasks I was doing at the time because I felt in control of my body and state of mind
Body: As mentioned above, I felt in control of my body and Eventhough this is a Sativa dominant strain, it did relieve most of my muscle discomfort due to working out. I was quite amazed that a Sativa Dom. strain had such impact on my body!
Creativity/talkative: very creative and talkative, I was alone in the car so I had a good solo concert on my long drive back home from west palm beach!
Hunger: I got stuck in traffic when the munchies hit, and it was terrible! I was so hungry! 😆😳🙃 as soon as I got home I didn't even wsit to put my little medmen bag in my room, I went straight to the kitchen! .
.
.
.
.
.
Ignore hashtags 😅👎🏼
.
.
.
.
.
.
#restlesslegsyndrome #sunshine #cannabis #sunshinecannabis #sunshinestate #medicalmarijuana #marijuana #mmj #florida #miami #miamibeach #miamiweed #review #weedreviews #indica #sativa #hybrid #cbd #cannabinoid #thc #flower #instaweed #pictureoftheday #picoftheday #photooftheday #frosty #medmen #westpalmbeach
Advertisements