Strain Review: Ogiesel by TRU Infusion
Ogiesel (SFV OG x Giesel) from @truinfusion2.0
Lineage/Genetics: SFV OG x Giesel
Original Breeder: The Cali Connection
Grower: TRU Infusion
Dispensary: Level/Up Tempe
Ogiesel Strain Review
This was the second strain I got from my ftp at Level/Up Tempe and holy shit i'm glad I did. I thought the Orange Kush took the crown but i'd have to say this one has it beat..😳
The bag appeal on this is what you would expect from an OG, super dark green nugs with light orange hairs poking out. This bud was kind of too fresh to the point where I couldn't really get solid hang time out of it for some reason because the buds themselves were extremely sticky. There's definitely noticeable trichomes looking at the outside of the nugs but once you bust them open…its like you left these outside in the snow overnight❄️
As soon as I cracked the jar my nose got hit with a mike tyson uppercut of straight gassy musky terps🦨 Dankest strain i've smelt in a long time and noticed myself having a hard time removing my nose from the jar😂 Everything about this strain screams OG and it's exactly what i've been looking for for the longest time.
The taste on this is on point. Super dank and gassy flavors every hit and 100% guaranteed lung punch while still being smooth as butter🧈
Now these effects are not for the faint of heart. This is a king kong hitting indica that reminded me of when I first started smoking because it left my body feeling almost numb and my head feeling extremely spacey😂 One of those highs where it has you just staring off into the distance for no damn reason😂 Definitely a night time strain that will help with insomnia and pain. If you love dank heavy hitting OGs then I HIGHLY recommend you try this one out⛽️
I love this strain so much and will 100% be picking this one up again. What's your favorite @truinfusion2.0 strain?!🔥
#ogiesel #gas #truinfusion #leveluptempe #mmj #mmjpatient #mmjcommunity #mmjlife #mmjarizona #arizonacannabis #arizonacannabiscommunity #cannabis #cannabisculture #cannabissociety #quality #nobaddays
TRU Infusion OGiesel Strain Review Part 2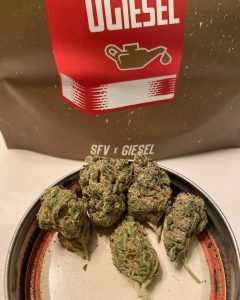 OGiesel (SFV x Giesel) By: @truinfusion2.0
Dispensary: TRU Bliss Organic
TRU Infusion OGiesel Review
Walked into @trublissorganic on January 10th to pick up flower and I saw these quarter bags had just recently hit the shelves..To be honest I really did not want to buy this bud especially since it was 80 bones. But I thought i'd scoop it SOLELY TO SHOW THE COMMUNITY🗣 @truinfusion2.0 has done a complete 180 compared to what they were pushing out 6 months ago. Everyone sees it but holds no one accountable. Flower like this should NEVER be able to even see trimmers. Before I just start ranting let's talk about this oregano.
As soon as I opened the bag I wanted to close it. If the smell wasn't disappointing enough the appearance sure as hell put the cherry on top! It's as if you put a quarter of copperstate in a jar with a wet paper towel, you get spongebob sherbet🧽
You ever mow the lawn on a hot summer day and when dumping out the grass catcher you get a whiff of hot mildewy grass? This flower is a combination of that and the smell of asphalt after it rains. Mix that with a lil italian seasoning and BOOM OGiesel is served🍽Try to break up the spongy herb and there's very faint gassy notes in the back but can't push thru all that mildew.
This was hands down the worst tasting weed I had all of 2020 and so far all of 2021..I can't even describe how tongue scratchinly terrible the taste was. Let's just say you can taste the mildew..with a splash of burnt resin ball.
I couldn't even get any noticeable effects because I was too busy gagging trying to scrape the taste off my tongue. I smoked 1 1/2 bowls, threw the rest in a jar and it's been sitting ever since. I bet my life that even after a "second cure" this shit would be just as bad as the day I bought it. And what do you know, still a jar of spongebob shit.
Now i'm not upset I bought this because I knew very well what I would receive. The reason i'm upset is because this kind of shit is being continuously put back on our shelves. How is it even legal to distribute weed that is pretty much non-smokeable? How can you sell mildew to PATIENTS and sleep well at night? @truinfusion2.0 y'all have a SHITLOAD of explaining to do👂🏼
Advertisements