Strain Review: Plumberry OG by Rio Vista Farms
New Review time! @riovistafarms #plumberryog peep below from the iPhone.
Plumberry OG – 18.38 %THC
Lineage/Genetics: Blueberry F4 x Purple Unicorn
Indica or Sativa: Indica dominant Hybrid
Original Breeder: Rio Vista Farms
Grower: Rio Vista Farms
Plumberry OG Strain Review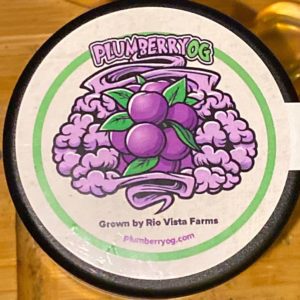 Comments:
Nugs looked super nice in the shop and it was a good ticket price so had to move on it. Def a purple throwback type of vibe, feelin this one. Cross between Blueberry and Purple Unicorn.
Review:
1. Scent: Berries one hundo. Little bit of a damp nose as tho it is curing a little bit.
2. Appearance: Fab looking nugs of various sizes for an 8th. Lots of purple crossing over with burnt orange hairs. One lil spot looked weird but it wasn't a bug or anything; Just a darker spot. Anyone else see these and could shed some light on em?
3. Nug Structure: Not popcorn but smaller guys that jump off the stem. Nice floral notes top left on the fingers when busting down.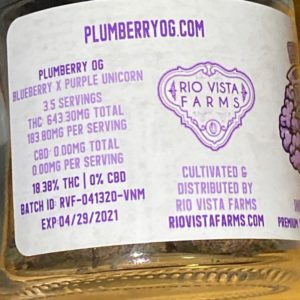 4. Smoke: Lighter side of smoke density on the inhale and exhale. Goes pretty quick too as the buds burn.
5. Taste: Nice little berry and purple notes. Little bit of citrus zest maybe on the dry pull.
6. Reaction: Slower onset of heavy eyes and hazy thoughts. Bout 20 mins deep into it now and I'm enjoying the pleasant "noise" reduction of the surroundings. Weird but I maintain focus pretty well off it. Good ticket price and nice vibes. A welcomed addition for vets and novices to cannabis culture.
#cannabiscommunity #cannabis #cannabisreviews #trees #weed #weedreviews #pot #potreviews #thc #sacramento #916 #420 #yee #legal #strainreview #riovistafarms #plumberryOG
Advertisements