Strain Review: Pride by Kush Rush Exotics
PRIDE (Chanel OG)
By: @kushrush_exotics @uncle_kush408 @mrallblack_
Via: @24k_exotics
Lineage/Genetics: Chanel OG
Original Breeder: Unknown
Grower: Kush Rush Exotics
Pride Strain Review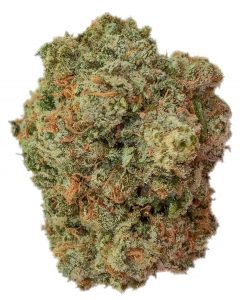 I've been waiting to try a true OG cut from the Kush Rush Team who have this far exceeded all expectations. I'm not surprised that they nailed it either. PRIDE aka Chanel OG meets all the coveted OG standards, with subtle, yet notable additions to enhance the experience.
Dense, clumpy buds reminiscent of small boulders and characteristic of the strains OG lineage. These nugs have the perfect dexterity; firm, yet spongey and ever slightly flakey off the stem. Chanel OG possesses lime and spring greens across its exterior, accented by resiny cider brown/orange pistils. The video shows it best, but a delicate, powdery, snowfall like layer of trichomes drapes over these buds.
Chanel OG has a pungent, loud nose particularly heavy on an irresistible sweet diesel and pine, with a hint of lemon pledge coming through at the end. Flavor-wise, you can anticipate much of the same(gassy, piney, spicey) but they're is an undeniably sweet, cakey addition to the statins profile as well. The overwhelming presence of those candy like terps on top of that famous OG fuel makes this strain a must-try in my opinion.
Chanel OG hits fast, hard, and truly does not miss. An immediate punch to the face and subsequent mind melt. The high soon settles in a band across the head as face in a halo like fashion, incentivizing a dazey, floaty, unfocused and carefree state. OGs like PRIDE are always sneakily sedating too, luring the body into an inescapable state of deep relaxation
Anyone else pick this one up yet? LMK in the comments what you think!
#Budfinder
•
•
•
•
#dcbud #dc420 #420 #dcweed #mdweed #stoner #marijuana #dccannabisculture #strainfinder #thc #dccannabis #dcdabbers #puffpuffpass #dopesmoke #dmv420 #topshelf #stoner #whiteashonly #cleanmeds #i71 #kushrush #ChanelOG
Advertisements