Strain Review: Purple Punch from District Florist
PURPLE PUNCH
Via: @districtflorist
Lineage/Genetics: Larry OG x Granddaddy Purple
Original Breeder: Supernova Gardens
Grower: I71 CANNAGAS
Distributor: District Florist
i71 CANNAGAS Purple Punch Strain Review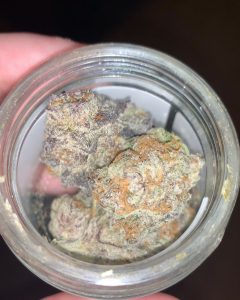 Often poorly imitated, Purple Punch is well-known yet controversial with a large camp of smokers insisting the strain has little to offer. My experience with this specific cut was quite the opposite – the smoke was consistently flavorful and potent throughout. The obvious feature here is the well-developed coat of trichomes glazing the exterior, possessing that ideal sticky-to-powdery ratio. The base of these nugs are a lighter, mint to sage green, with vibrant purples spanning from iris to magenta arising at the tips of the bud.
Previous Purple Punch's I've smoked have often left me unsatisfied in the flavor department, boasting a perfumey, fruity sweetness, but very little else to offer. Luckily, that was not the case with this cut at all, instead, I was quite taken aback by the burst of flavor seeking from these buds. The nose on this Purple Punch is predominately defined by a musky, "dark fruit" reminiscent of a rubbery grape/blackberry. Through a waterpipe, the flavor turns sweet yet acidic, and is reminiscent of fruit punch powerade, with a hashy, peppery incense like backend. This cut is much akin to a fine, tart wine versus your average grape juice which Purple Punch is often described as.
The offspring of two Indica dominant strains, Purple Punch is expectedly a heavier strain, yet still boasts a myriad of balanced effects. The high starts with a sense of pressure behind and between the eyes, soon providing a hazey yet uplifting, cerebral bliss. This strain is meant to take you on a trip and away from a sober headspace. Purple Punch is also known for higher levels of Caryophyllene. I'm no expert on terpenes but this one specifically induces many of our favorite body effects, anti-inflammatory, anti-stress with some subtle pain relief. Purple Punch is a good end of day strain, facilitating recovery to face tomorrow.
#Budfinder
•
•
•
•
#dcbud #dc420 #420 #dcweed #stoner #marijuana #dccannabisculture #strainfinder #thc #dccannabis #puffpuffpass #dopesmoke #dmv420 #topshelf #stoner #whiteashonly #cleanmeds #i71 #districtflorist #purplepunch
Advertisements