Strain Review: Ginseng OG by Delta Boyz
200th post! Thank you for following me on my journey. This page started as a journal when I fucked up back. I've been in touch with a lot of these brands and I'm humbled to be apart of this community. I'm stoked to see where we can take the ball in 2021. With our further BS:
@deltaboyz__
@lemonnadesacramento
@westcoastsmokeshow
@trunorcal420_
Brand: Delta Boyz x iCannic
Cultivar: Ginseng OG
Lineage/Genetics: Larry OG x Sour Diesel
Original Breeder: iCanniC
Grower: Delta Boyz
Dispensary: Lemonnade Sacramento
Ginseng OG Strain Review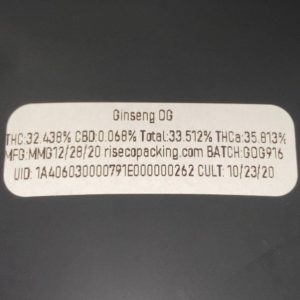 32.438% THC
0.068% CBD
32.152% Total Cannabinoids
35.913% THCa
Cultivation Date: 10/23/2020
Mfg Date: 12/28/2020
Comments: Rocked a Delta Boyz cut a while ago but since Rio Vista is hella far, haven't had the chance to taste additional flavors. Excited bout this one!! Anyone know why the THCa exceeds the total Cannabinoids? I'd love to get some more intel from y'all down below. I usually focus on flavor and not on THC content, so with this being up there in both departments, I'd love to know what ya think. 🙏🏻🆙
Review
1. Scent: Spice pine as one would expect with an OG. It's is more aromatic on nug breakdown. Slightly dank smell left on the fingers, which are def sticky!!
2. Appearance: C size buds but looks like we have a bunch of shining trichomes which weave in and out of red and dark green spots.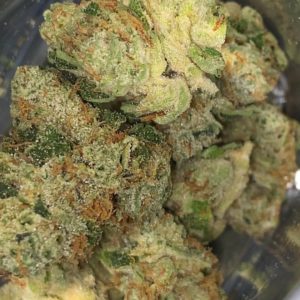 3. Nug Structure: Easy to pull apart. Using the grinder for the kief saving 👀but not needed at all.
4. Smoke: Slightly tickle to my left nostril but it's not making me cough (just cleaned the bubbler for this one ✅💯) Oddly enough, the lady was coughing off the bubbler 😳🤔 she def said "I don't like the bub" and I guess I'll see her reaction off the bong, (15 1/2 inch triple perc for those wondering).
5. Taste: Full spectrum of pine and earth tastes. Second rip was more pine and spice on the back of the throat. That tingle on the nose is the pepper vibe I'm noticing.
6. Reaction: Whelp, it's been an hour and 👀 one bowl got me straight great. Body high is def kicking in as my left side sciatic is slowly melting. If I did another bowl I'm sure I'd be toe up. Mind is focused on writing this review, so it's not messing me up in that lazy stoner dept.
7. Conclusion: First impressions can not be replaced. I'd absolutely grab this again as I'm freaking soaring high and feeling completely at ease. It's really remarkable. I've smoked a ton of cultivars from across California and have truly appreciated the hard work every has done to get these bags in the shops. If you can grab it, get it. I'll be going back ASAP for another one.
#NoHashTagz
Advertisements