Strain Review: Pigeon Pot Pie by SF Cultivators
Last 2020 Review! Let's go!
. @sfcultivators
. @lemonnadesacramento
. @trunorcal420_
. @westcoastsmokeshow
Brand: SF Cultivators
Cultivar: Pigeon Pot Pie
Lineage/Genetics: Sunset Sherbert x Happy Crasher
Original Breeder: SF Cultivators
Grower: SF Cultivators
Dispensary: Lemonnade Sacramento
Pigeon Pot Pie Strain Review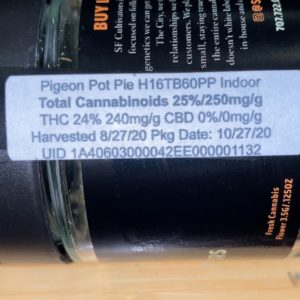 24.0 %THC
25% Total Cannabinoids
Harvest Date: 8/27/2020
Pkg Date: 10/27/2020
Comments: And the last jar of SF Cultivators is gone. Fml. I liked this one a lot too!
Review
1. Scent: Sugary maple scent on jar opening. But on breakdown it's wild. Like a mango blunt wrap, I'm getty a juicy sensation.
2. Appearance: Money nug is a beautiful 🤩 Fuck. Lots of colors from orange to purple to creamy trichomes lookin like the Milky Way.
3. Nug Structure: Christmas tree nug was whoa. Just sprinkling with colors of red, orange purple and pulls apart with force. Not overly dense but not soft bud.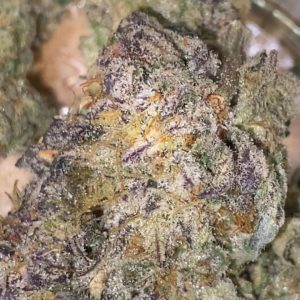 4. Smoke: Dense heavy on the chest but no bubbler coughing. Bong def was a different story. Coughing pretty hard.
5. Taste: Lovely array of sugar mango and some of that maple I smelled at the start.
6. Reaction: Heavy stone. Eyes are def not open and my brain has left the building. Body is feeling pretty good but still aware.
7. Conclusion: Smashing. Having had several bowls throughout the week, this leans towards our nighttime sleepy weed. I am feeling great on it and the taste plus ticket was just right.
#NoHashTagz
Advertisements