Strain Review: Scooby Snacks by Injoy Cannabis
This review was a nice surprise. I haven't had a chance to try anything from @injoy_cannabis recently because @tetra.pdx hasn't carried their stuff for a bit. The pictures of these Scooby Snacks (Scooby Snax) plants really piqued my interest, so you can imagine how stoked I was when the grower hit me up for a sponsored review.
Lineage/Genetics: Forum Cut GSC x Dogwalker OG
Indica or Sativa: Indica dominant Hybrid
Original Breeder: OneEye
Grower: Injoy Cannabis
Dispensary: Pacific Gold Cannabis
Scooby Snacks Strain Review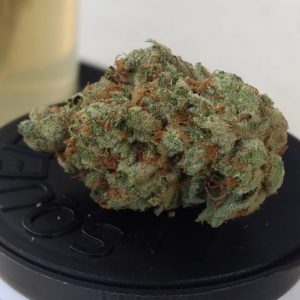 I had the pleasure of picking up my care package at @pacificgoldpdx up on Pill Hill in SW. Fun fact, this place was literally two houses from where my great-gandparents used to live. Everyone was super nice and seemed really enthusiastic about their products. There was some confusion surrounding what was supposed to be in the care package, so I wound up having to buy the flower, but everything got figured out and we're all good.
The buds are super sticky and have a pungency to match. The Dogwalker genetics come through hard with strong chemical and astringent notes underlining a general piney gas. This is legit Scooby Snacks grown well, not the stuff someone got for the name and didn't give the individualized attention it needs.
The effects are nice and strong with a powerful, energetic stoniness. Almost like that Turkish coffee shit they put Raki in, it left me functionally fucked up. Had me laughing a lot easier than usual and going on way more impassioned rants about Elder Scrolls lore.
This weed is fucking fire. I'm hoping this review comes out in time for my readers to get some, but I think they're gonna be running this one again, so don't fret. Pretty sure @archive.portland sold out the day they got it. I can recommend pretty much anything these guys put out, and I really hope some places closer to me start carrying their stuff again. They're a great farm for people on a budget who still want some serious fire.
.
.
.
#thehighestcritic #scoobysnacks #strainreview #strainreviews #weedreviews #420review #portlandcannabis #OMMP #portlandweedreviews #mmj #oregoncannabiscommunity #portlandcannabiscommunity #oregonweedreviews #Medicate #oregoncannabis #mmjpatient #medicalmarijuana #pnwstoners #higherthanmost #justblazeig #420lifestyle #flavorchaser #cannabiscommunity #cannabisreviews
Advertisements