Strain Review: Triple Layer Cake by Triples
Review alert 🚨 @triplessf – Triple Layer Cake
Lineage/Genetics: Wedding Cake x GMO x TK Skunk
Indica or Sativa: Indica dominant Hybrid
Original Breeder: Triples
Grower; Triples
Triple Layer Cake Strain Review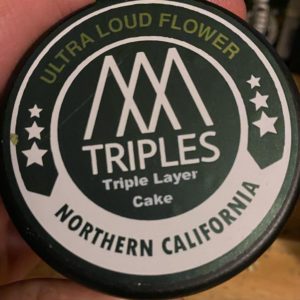 #TripleLayerCake first three impressions:
Hit that jar with orange peel
Too much pine on taste
2nd hit, much better
Prior to sitting down and typing out this review, @triplessf sent me a DM thanking me for trying their stuff. Additionally, I was provided info since I was new to their color and label systems. "Top Shelf" is Silver label – premium nugs and "Mids" which is usually the same batch, just not premium buds. Thats pretty solid tbh. If you are a brand I highly recommend being interactive with your audience and customers.
Back to to the review: As you read the first impressions, we were a wee bit shaky given the first hit. It was certainly harsher and I swooped up the jar noticing the pack harvest date were in proper time frame from the fall. Smell test: I read that #layercake10 gives off an epoxy like fume from @leafly That seems close to the instant first scent, but I got the majority of the smell as cool minty pine, slight citrus maybe some floral nodes here and there but super faint. Bud is not overly dense, fluffed up a lil after the rehydration & sitting over night.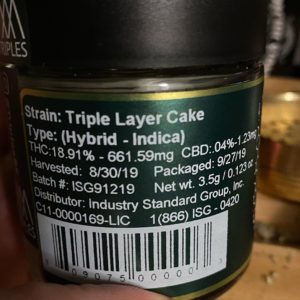 Mind you, this orange peel is probably the size of the letter "O" on a keyboard, it aint big at all. Zooming in on the bud reveals red/gold hairs, sproatic purple leaves along with deep to olive green buds. Breakdown is decent by hand and I opted to use the grinder for rounds 2 and so on. Pretty smooth rip off the bong for 2nd rip. First hit was harsh. The stone is on the middle to heavy side on the body definitely feeling lazy.
Mind is drawing a blank looking for different details on the linage. My lady and I enjoyed this strain. It was nice steady indica hybrid that calms the mind and body. Lasts about an hour or so till you need another bong load packed up.
#cannabis #marijuana #weed #weedreviews #pot #trees #cannabiscommunity #cannabisculture #cannabisreviews #sacramento #916 #420 #yee
Advertisements