Strain Review: Wedding Pie by SF Cultivators
Happy Saturday! Peep this company that is based outta The City called @sfcultivators that specialize in exotic indoor on flavors and profiles. I was lucky enough to have come up on this Wedding Pie #WeddingPie which is a cross of #weddingcake and #grapepie strolling in at a hit above 25%.
Lineage/Genetics: Wedding Cake x Grape Pie
Original Breeder: Cannarado Genetics
Grower: SF Cultivators
SF Cultivators Wedding Pie Strain Review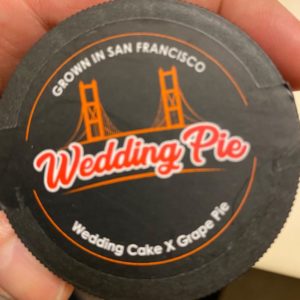 #thc content is actually pretty impressive in contrast to some of the higher content stuff I've reviewed. The smell is immediately maple sugar across the tightly grown nugs, revealing clusters of purple leaves and red fire hairs. The white crystals coat the leaves inside and out. I had to use the grinder to break apart for bowl packing, my fingers just got too much resin on em to be useful! A hit off the bong provided me with a slight salivating sense in the mouth. Sugar and maple again, not so much grape anywhere but a whisper of a berry perhaps.
The head high was instant starting at my ears and wrapping down the neck and across the top. It is a great feeling about 20 mins in so far.
(Disclaimer: the rest of this review is 3 days after first impressions)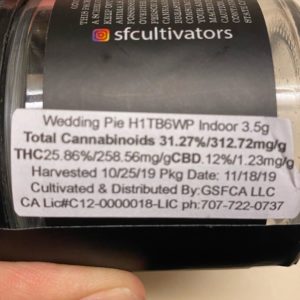 Easily the to-go-to strain of the past week. Body and mind high were even and steady, lasting around 2 hours. High enough to laugh/get stuck on the couch; yet if you have stuff to do it allows you to focus. Pretty unique taste with the maple.
I def will be looking for this in Sacramento in the future.
#weed #weedreviews #trees #cannabiscommunity #cannabis #cannabisculture #cannabisreviews #420 #916 #yee #49ers #sacramento
Advertisements