Strain Review: White Chocolate 55 by Finsley Farms
WHITE CHOCOLATE 55
By: @finesleyfarms
Via: @georgetownflavors.rep @georgetownflavors.lookbookco
Lineage/Genetics: Unknown
Original Breeder: Unknown
Grower: Finsley Farms
Distributor: Georgetown Flavors
White Chocolate 55 Strain Review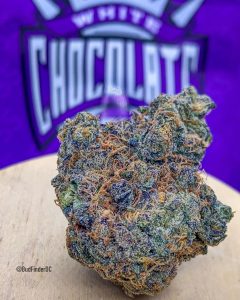 Was your childhood spent hooping emulating your favorite NBA stars like mine was? Props to @finesleyfarms for paying homage to one of the most memorable point guards of the 2000s with a strain equally as smooth and unique.
Good luck nailing the exact genetics. Finesley pulled a seed that became White Chocolate from a room of herm'd flower containing cuts of Dosi, ICC, Mint Cookies, Sunset Sherbet and Jet Fuel Gelato amongst others. With no two grows ending exactly alike, the flavor and flower keep evolving!
My eighth consisted of three well-manicured, medium sized buds. White Chocolate boasts a shady yet frosty, three-tone exterior alternating between basil/emerald greens, dark violet, and crayola indigos. Long, wiry marmalade orange pistils emerge from every crevice, and wrap tight around the exterior.
The nose on White Chocolate is one to remember! Initial notes are distinctly nutty and buttery with a funky cream and caramel like overtone. Grind her up, and the strain emits a bittersweet dark chocolate aroma with a dose of jet fuel and just a touch of something citrusy.
The strains smoke is equally as complex as its nose. First expressing a graham cracker and hazelnut coffee palate, the flavor lingers on the taste buds and expands into a milky, rich butterscotch. The exhale is both sweet and biting, like a gassy 'black and white' cookie and peppery vanilla extract.
White Chocolate 55 provides a powerful blast to the frontal lobe after only a minute or two from first inhale. The ensuing head change is hazy, swirling and delightfully disorienting at its peak. Physically, the pressure is felt strongest right under the eyes. While the head feels heavy, the rest of the body remains loose, tingly and warm. Potent enough to serve as a nighttime strain, but balanced enough to hit throughout the day (if you have the tolerance).
#Budfinder
▂▂▂▂▂▂▂▂▂▂▂▂▂▂▂▂▂▂▂
#dccannabis #dcweed #cannabisculture #marijuana #strainfinder #strainreviews #puffpuffpass #whiteashonly #dopesmoke #stoner #wakeandbake #whiteashgang #smokeweedeveryday #whitechocolate #whitechocolate55
Advertisements