Vape Review: Super Lemon Haze Cartridge by Jackpot (BMF)
This Super Lemon Haze cartridge from (BMF) Jackpot is overpowering with Lemon but it's not sour, it's sweet and savory just like a Myer Lemon straight from Central California.
Lineage/Genetics: Lemon Skunk x SSH (Super Silver Haze) x Northern Lights #5
Original Breeder: Green House Seed Company (Arjan Roskam)
Brand: BMF
BMF Super Lemon Haze Cartridge Review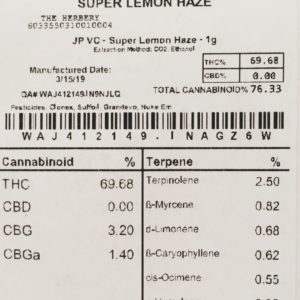 Energetic intense head high. Its also a 1 gram Cartridge!
STRAIN: SUPER LEMON HAZE
PRODUCER/PROCESSOR: BMF WASHINGTON, JACKPOT
EXTRACTION METHOD: CO2 ETHANOL
PESTICIDES:
FOLLOW: @jackpotwashington
.
.
.
.
.
#i502 #Seattlestoners #ogKush #cannabiscommunity #Weedstagram #WeedPorn #Terpenes #Cannabinoids #420 #710 #420society #710society #portlandcannabiscommunity #Weedstagram #LegalCannabis #Legalizeit #stonersociety #jackpotseaweed #superlemonhaze
Advertisements