Concentrate Review: Dutch Hawaiian Wax by Sticky Budz
Excited to try this Dutch Hawaiian Honeycomb-like wax from Honeycomb Labs.
Lineage/Genetics: Dutch Treat x Hawaiian Sativa
Original Breeder: Top Shelf Seeds
Dutch Hawaiian Wax Review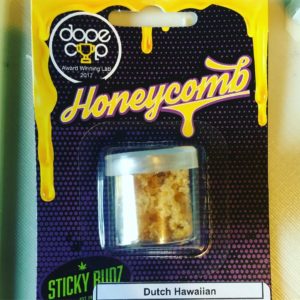 I used to call wax with this bubbly consistency "honeycomb", naturally, so its good to see this type of concentrate on shelves in the recreational era. The consistency is very light and airy and actually looks like honeycomb from a beehive. This is due to air bubbles of gases escaping from the concentrate during the purging process. I would guess that this wax had a slower purging process at cooler temperatures, or no purging at all, leaving more time for the concentrate to harden with the air pockets in it. The color of this beautiful concentrate is a very light tan.
STRAIN: DUTCH HAWAIIAN
AROMA: like Sour Candy. Green apples. LEMON
FLAVOR: Tasted onions or earthiness and the spiciness that is often associated with cannabis oils.
EFFECTS: SATIVA very clear headed high and euphoria [activation time: 5 minutes]
CONSISTENCY: WAX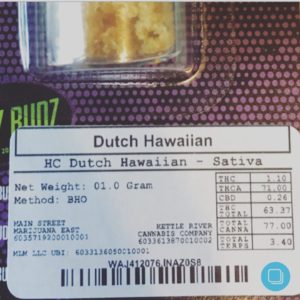 EXTRACTION METHOD: BHO
PESTICIDES:
PRODUCER: STICKY BUDZ
PROCESSOR: HONEYCOMB LABS (Dope Cup Award Winning Lab)
KETTLE RIVER CANNABIS COMPANY
FOLLOW: @stickybudz509 .
.
.
.
.
#i502 #420 #420Society #DopeCup #Weedstagram #WeedPorn #LegalCannabis #Legalizeit #RecreationalMarijuana #710society #cannabiscommunity #710 #Dutchhawaiian #Kush #Cannabis #industrialHemp #Terpenes #Cannabinoids #CBD #THC
Advertisements