Cultivar Review: Icy Runtz by Unity Farmz
Icy Runtz – @blunted707 @unityfarmz
Nose: Creamy, sweet, gassy, candy, hazelnut/nutty, cakey
Inhale: Floral, gassy, creamy, candy, sweet
Exhale: Creamy, piney, sweet, musty, vanilla, nutty, floral
Genetics 🧬: Runtz x Icy Mac (Ice Cream Cake #5 x (gelato 33 x MAC1))
Bred by: Unity Farmz
Cultivated by: Unity Farmz
Terpene Profile: Unknown
Assisted by: @ostf_dc_backup
Icy Runtz Cannabis Cultivar (Strain) Review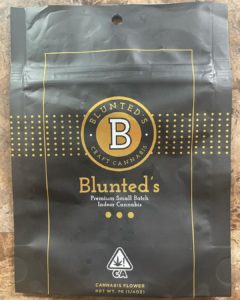 Hey what's up everyone? We have made it to the tail end of this week and I have another review for you all. I've been trying to pick up the pace a little bit lately when I noticed that this is 99th review so far which leaves us one away from the 100 mark. I will have a special one coming up for that but, before all that happens, let's focus on this unique cultivar I got my hands on from another local reviewer who chose to remain anonymous (who, in turn, received it from OSTF). This one features Icy Runtz by Unity Farmz, packaged on behalf of Blunted 707, and I'm going to be completely honest I had not heard of these two prior to receiving this. I couldn't find much on Blunted 707 but they appeared to be a collective of various California growers upon doing some research on their Ig page. As far as Unity Farmz goes, I was able to dig up a little more behind them on their page. I came to learn that the Icy Runtz I am currently reviewing was bred by them and features a cross between Runtz and x Icy Mac, which they also were responsible for breeding. The Icy Mac (which they were also responsible for breeding) features a cross between Ice Cream Cake #5, gelato 33, and Mac1. I didn't know what to expect going into this but I had a hunch this would provide a sweet, savory, as well as gassy smoke. Personally, I have found some the brands that I don't know upon reviewing to be some of the best finds out there so I was hoping the trend would continue with this one. Let's waste no more time and get into the facts!
When I received the Icy Runtz from Unity Farmz it came in Blunted 707's simple, but sleek, packaging. I won't get into too much detail as the bag itself featured a gold and black colorway, striking me as one of the more professional marketing efforts I've seen around. The cultivars name was included on the back in what I believe to be magic marker indicating the offering enclosed. When I first took a look at the appearance of these nugs in the bag they looked very similar to Runtz/ICC, boasting darker purple leaves with a frosty dose of triches placed on top. This was met with a mix of lighter green hues as well as a considerable amount of pistils that were seamlessly tucked in within the overall structure. Each boulder-sized gave off a creamy, nutty nose mixed in with a touch of sweet candy. I couldn't help but notice a touch of gassy pastry terps within the nose feeding off a distant, but strong, hazelnut undertones. When breaking open each nugs dense, crisp, and kiefy surface, the overall level of gassiness increased significantly. This also emanated those creamy, cakey terps giving off a vanilla bean smell while loosing its candy edge. Although the buds did appear to be a little compressed due to transport, the flawless texture allowed me to received a damn-near perfect yield. Additionally, the break up resulted in a lot of loose kief participle becoming displaced thanks to the structure not being to sticky nor fluffy. Once I took a dry pull of the joint a heavy taste of hazelnut with sweet, soily fuel terps were left lingering on my breath.
When I sparked the Icy Runtz in an Organic RAW, the initial inhales drew similarity to the nose as I was met with thick, creamy terps feeding of a sweet and floral taste from the beginning. While I could tell early on that this was going to provide some pressure, I still admired the consistency between those Mac and ICC terps this one provided within its profile. Surprisingly, on the way out, there was more flavor on the exhale than on the inhale. I retained the creamy taste felt on the inhale with a whole lotta pine reminiscent of the Mac within the lineage. Additionally, each exhale threw off big terps of mustiness, floral, vanilla and hazelnut culminating in a plethora of delectable flavors. A little further into the sesh, I honed in on a slight bit of Z as those floral notes picked up but lacking the power to truly stand out. By about halfway through the sesh I noticed this one start to heat up. Some pulls offered enough pressure to where I couldn't help but cough. Nonetheless, the sweet vanilla pine taste intwining with penetrating floral terps took over this sesh toward the tail end. The Icy Runtz burned magnificently drawing a lighter grey ash with some periodic flashes of white. This also produced a moderate, and bubbly, terp ring around the perimeter of the joint. Concluding the sesh, those creamy terps remained resilient, as well as the piney finish, leaving the tongue more candy coated than earlier on. I have to say that the barrage of flavor within this cultivar impressed me. You have to love when you get something with a consistent balance of flavor and potency which this one undeniably beheld.
Following up from a noteworthy smoke, the onset of medicinal effects began with a buzzing sensation that fully engulfed my head adding a moderately racy feel. As this occurred around halfway through the sesh I didn't feel anything hit until after the conclusion. This was a creeper and hit the body out of nowhere with a strong, sudden sedation.
The pressure from the joint caught up with me later on as coughing only made me eyes teary red. I felt my heart beating fast which created a euro Horus which slowly started taking over the upper portion of my body. While my mind remained drifty, I felt rather calm and carefree as a result of the effects this cultivar put out. The Icy Runtz came in handy featuring as a prominent night cap. I made the mistake one day of doing a wake and bake with this and, ultimately, had to go back to sleep for an extra hour or so. Not to leave out the fact I did experience an increase appetite while under the influence of the effects this cultivar put out. Lastly, this did the job to say the least as, in total, the high lasted for about two hours give or take. All in all, this was a full-spectrum, stereotypical couch-lock high which made it essential for winding the evening down.
After having a chance to try to the Icy Runtz by Unity Farmz (on behalf of Blunted707 and ostf) this was the equivalent to finding a hidden gem in the area. While the aesthetics held a solid appeal, it was ultimately the smoke and effects that wore the crown. Whether you prefer taste or hard-hitting gas you simply won't go wrong with this. The only thing I will put out is that if you're a Z head who is solely looking for a candy profile this may be a little deceiving given the name. However, that doesn't take away from the fact that anyone who prefers a creamy, piney, or sweet smoke will want to give the Icy Runtz a stab. As far as the effects go? Let's just say if you enjoy blazing in the evening this will be more suitable for you. On the patient side of things this well serve as a remedy for those seeking any type of pain relief. Additionally, those suffering from depression, insomnia, amongst other thing will find the appropriate care within this cultivar. This was definitely a solid find and I will be on the lookout for more from these guys in the future for sure.