Cultivar Review: Pure Michigan by Madd Mike
#puremichigan by @_mike_fcc_ x @thelegacygrowers x @thelegacyexclusive
Lineage/Genetics – Oreoz & Mendo breath
Bred by: ThugPug Genetics @_thugpuggenetics
Grown by: Madd Mike
Brand: Legacy Growers
Terpene Profile: Unknown
Madd Mike Pure Michigan Cannabis Cultivar (Strain) Review by Letmeseewhatusmokin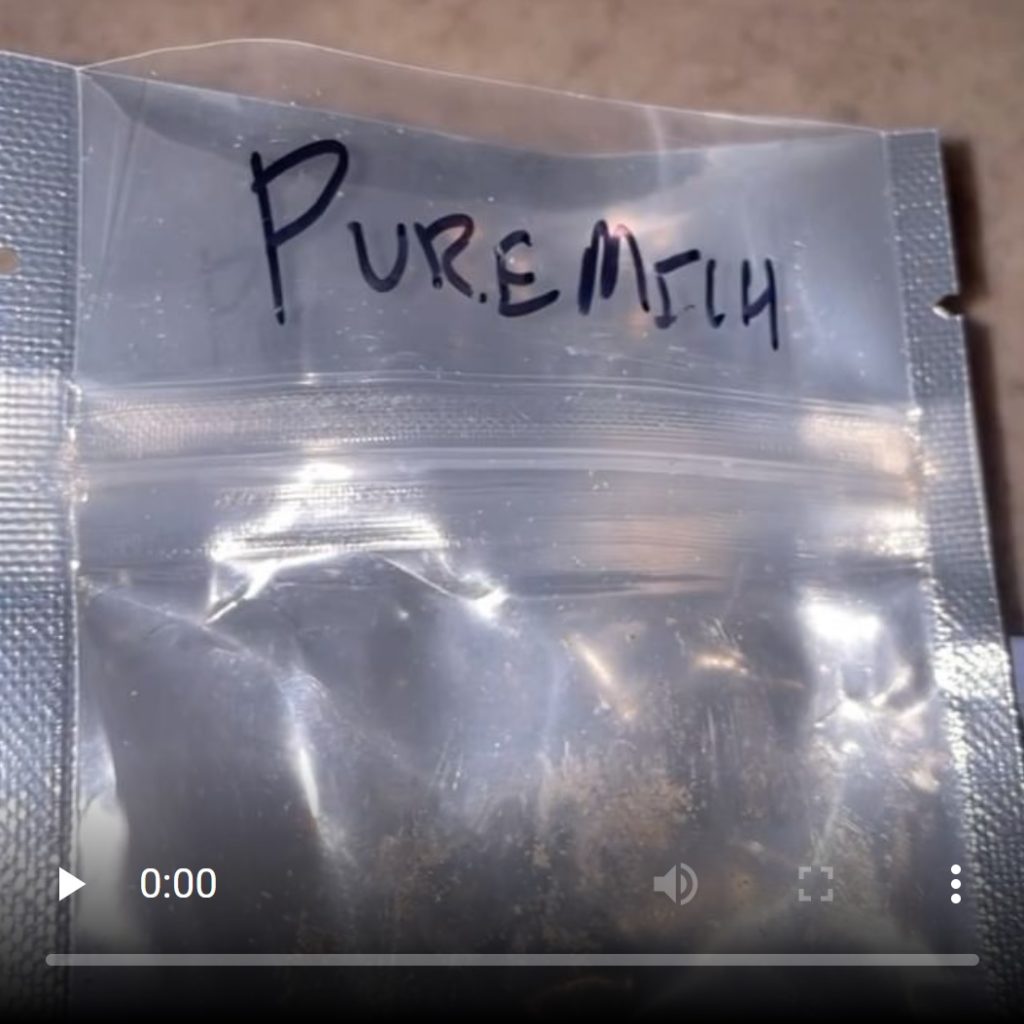 @thelegacygrowers @thelegacyexclusive is a brand for the legacy growers and local legacy cultivators to triumph and have a platform to show their work. This is my second time reviewing Pure Michigan and NY cultivated. This time the Pure Michigan is cultivated by @_mike_fcc_ . Pure Michigan is the blend of one of the most hated cultivars oreoz and the strong potent legendary Mendo breath.
The structure is the main highlight of this cultivar. The trichomes shine bright like bridge lights in the night, French dressing color pistils, red cabbage color hues, avocado color leaves 🍃. The scent is a zesty, musky, basement odor, & terpenolene fuel. The palate is dominated by a limonene sour, earthy ness and gassy of the Mendo. The Oreoz is tasted on the inhale. The smoking experience is equally balanced with a dirty 50/50 salt n pepper ash with the blazing Suzan and vibes papers. It burned 60/40 and smoother on the raw The inhale is smooth then turns to gas and pungent on the exhale. The effects are medium level cerebral high, Intense heady can last about 40-50 min on and off balance high for about 2 hrs. The high converts to a nice medium level body high. Overall this Pure Michigan has one of the best appeal, better than the last Pure Michigan (respectively). The effects also are memorable, comatose relaxing high. It had me active at the job and feeling internally in heaven. The only con is the burn and can be smoother on the inhale, beside that is worth the try. The scent and palate are up to par with the lineage. Shoutout to @_mike_fcc_ for cultivating this beauty of a plant . Big shoutout to @ben_allcaps @thelegacygrowers for the opportunity to review this flower— 4.5/5
Pure Michigan Review by Robb Reefa
Pure Michigan (oreoz x mendo breath) by @thelegacyexclusive @_mike_fcc_
Reefa rating :
Smell- ✅
Look-✅
Smoke-✅
Taste-❎
High-✅
Memorable-❎
Bigshout to @ben_allcaps and flower city collective
Smell- earthy piney aroma
Look- large green frost blasted nugs, with some dark green/greyish hues.
Smoke- smooth inhale and somewhat smooth Exhale. I noticed taking longer drags would entice me to cough more.
Taste- inhale had a bitter earthiness, exhale was a musky pine.
High- if you smoke this sitting down, you gonna have a tough time getting up that's for sure! This is really helps with sleep.
Memorable- this was probably one of the better appearing pure Michigan strains just looking at how frosty it was but I don't feel like the smoke experience was as good or the high lasted as long as others. However if you've never had pure Michigan the legacy exclusive isn't a bad place to start.
#robbreefa #reefaradio #puremichiganreview #benallcaps #thelegacyexclusive #strainreviews #nyreviews
Advertisements