Cultivar Review: Wilson Zero by matter.
We got ourselves a battle from two new strains to hit the Illini dispos. First up from @pharmacanninc @matterproducts label we have Wilson Zero which is a cross of Tropicana Cookies F1(Tangie*GSC) and Castaway(Banana heavy pheno of Papaya*Banana OG). This was originally bred by @oniseedco with the brethren @masonic_smoker3.0 blessing to basically mirror his original with different cuts.
Lineage/Genetics: Tropicana Cookies F1 x Castaway
Original Breeder: Oni Seed Co. s/o Masonic Smoker
Grower: matter.
Terpene Profile: Unknown
Wilson Zero Cannabis Cultivar (Strain) Review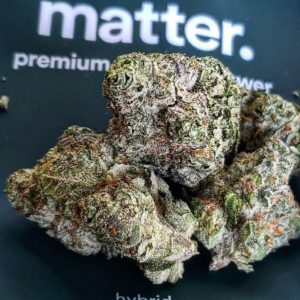 WZ-2 fat dense spears and 2 good sized smalls of mint to forest green buds. Tightly wound rusty hairs and a frosty coating of tiny bright trichomes thats almost white in the middle.21/25
WZ-Hawaiian Tropic suntan lotion, Creamsicle, and banana smoothie make up the aroma. It goes next level with strong bits of pine and skunk coming out after breakdown.23/25
WZ-Flavors of overripe bananas, papaya, and sweet coconut milk make for a tropical treat that drops hints of creamy kush on a rich expansive exhale. Dry pull on the J is creamy papaya banana that burns down to dark grey ash with small ring.22/25
WZ-Rapid acting that literally melts your face with a euphoric trippy high that makes your morning walks like frolicking thru strawberry fields with a 75-90 min buzz.23/25
WZ-89
#weedadvocate #wilsonzero #treslechescake
Advertisements