Strain Review: Berry Pie from Lemonnade Sacramento
And another Review:
. @cookiesenterprises
. @lemonnadesacramento
. @westcoastsmokeshow
. #BerryPie
.
Brand: Cookies x Southwest Caregivers
Strain: Berry Pie
Lineage/Genetics: Unknown
Original Breeder: Cookies Enterprises
Grower: Cookies Enterprises x Southwest Caregivers
Dispensary: Lemonnade Sacramento
Lemonnade Berry Pie Strain Review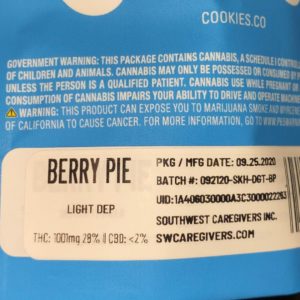 28%THC
Mfg Date: 9/25/2020
Comments: Toss up 8th for sure to fill out the purchase. Haven't tried too many cookies branded 8ths but it's always a mylar adventure!
Review
1. Scent: Faint dehydrated blueberries with a side note of a rubbery coolness. Kinda like at the dentist with a cleanliness to it.
2. Appearance: Frost coated but still maintains the overall green from the bud. B/C sided duder nugs.
3. Nug Structure: Little dry so I hit it with a boveda pack from another jar. It didn't save it tbh, but the buds did not turn to dust, just crunchy.
4. Smoke: Tingles the nose and little harsh on the throat off exhale. Off the bong we were coughing but it was slightly better off the bubbler.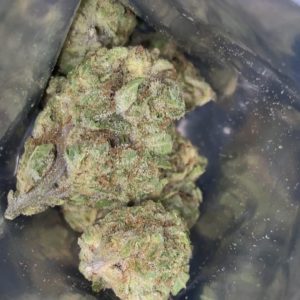 5. Taste: Lost a bit of that cool rubber for an earthy berry sensation. Not bad tbh.
6. Reaction: Steady high for over an hr that was easy on the downslope. Not couch locked but not head trippin-even keeled.
7. Conclusion: Flavor was nice for sure, High wasn't long under about an hour or so but with that hype I am torn. Decent bud sure, didn't knock my socks off but also didn't leave any bad impressions. Will need another scoop for a rare re-review.
8. Lift vs Ticket: Higher yuck factor ✅ hurt a lil bit at nearly s i x yucks but it was one of those "gotta try" and see what's up. Since I'm torn, I'll likely get another bag and review it again in 2021 but I'm in no hurry.
#cannabiscommunity #cannabis #cannabisreviews #trees #weed #weedreviews #pot #potreviews #thc #sacramento #916 #420 #yee #legal #strainreview #california #valley #thehighestcritic #westcoastsmokeshow #loud #lockdown #cookies #swcaregivers
@berner415