Strain Review: Pacific Sunset by Pacific Reserve
Happy Lockdown Review! Part whatever.
. @pacificreserve
. @westcoastsmokeshow
. #pacificsunset
Brand: Pacific Reserve
Cultivar: Pacific Sunset
Lineage/Genetics: Sour Diesel x Sherbet
Original Breeder: Pacific Reserve
Grower: Pacific Reserve
Pacific Sunset Strain Review
Parents: Sour diesel x Sherbet
22.826%THC
27.88% Total Cannabinods
Pkg Date: 11/4/2020
Comments: Aloha folks! Whelp, 2020 been different for everyone for sure. One constant has been Pacific Reserve tho! Following em for a hot one and their affordable selection is always looking pretty. Nice prerolls too! Take a peak at what the most recent pick up was from Valley Health Options.
Review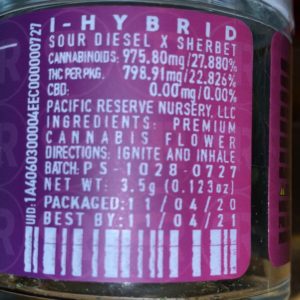 1. Scent: Candy like scent, artificial akin to those lollipops you would see at the checkout counter. "Pink" smell to it Is what my brain registers.
2. Appearance: Golden green nuggies with a decent coat of trichomes.
3. Nug Structure: Pulls apart nicely. Slightly dry on opening so I hit it with a orange peel for 8 hrs and it got nice and fluffy without giving off to much orange appeal.
4. Smoke: Sweet and sultry! She burns a little hot but goes down and exhales nicely. No cough off bong or bub.
5. Taste: Some sour tones from that Sour D cross but it's quick to a nice floral arrangement of smooth creamy citrus with that "pink" type of scent to the brain.
6. Reaction: Nice uplifting behind the eyes from the sour D, quick relaxation for the body and mind slightly after. Duration is not long, less than an hour between reloads. But it was nicely balanced between head and body.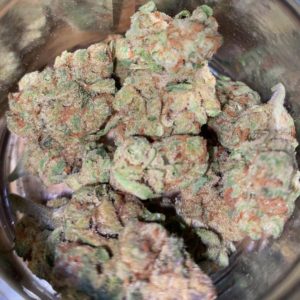 7. Conclusion: Been a long time fan and this did not disappoint. Happily baked for about 45 mins between bowls. Good for all types of smokers as it doesn't kick your face in nor make your brain race.
8. Lift vs Ticket: About three ✅ yucks out the door and it's one of the more moderately affordable jars on the market that does ya right. You can drop double for the same impact so it's a personal preference thing. I've had great success with them over the years for hybrids and Indica ones, less so with Sativa (even though the 3 types of trees need to be divided better across the industry).
#cannabiscommunity #cannabis #cannabisreviews #trees #weed #weedreviews #pot #potreviews #thc #sacramento #916 #420 #yee #legal #strainreview #westcoastsmokeshow