Strain Review: Ice Cream Barz by Xotic Flavorz
Not for sale! Reviews only!
IG police be on me. Plz make sure to follow @westcoastsmokeshow
. @terpenstein41510 @gotbars51oh @gotbars510_ @brokeboyz_365 @lemonnadesacramento @xotic_flavorz
.
Brand: GotBars (Broke Boyz) x Xotic Flavorz
Cultivar: Ice Cream Barz
Lineage/Genetics: Unknown
Original Breeder: Unknown
Grower: Broke Boyz
Dispensary: Lemonnade Sacramento
Ice Cream Barz Strain Review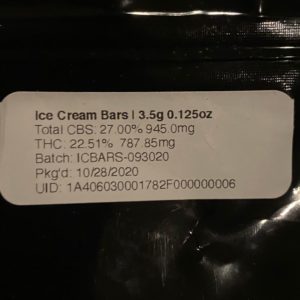 22.51 %THC
27.00% Total Cannabinoids
Pkg Date: 10/20/2020
Comments: Rollin deep with the 2020 flavors. Been reviewing a lot of Bars x Xotic Flavorz for the fact that it's available and good weed. Does the trick for all hours of the day, if ya find it, get it, otherwise bars will steal it from ya.
Review
1. Scent: Little bit of a sweet/clean sensation with small wood tones. Not a pine Kushy but maybe something like oak.
2. Appearance: Holy mother Nug! Who ever picked this bag was like "Better be happy bro!" I was pleased with the trim. Nice deep green colors with trichomes to boot. Not dripping but certainly there.
3. Nug Structure: The money nug is just wow. Plucking bud off like I'm trimming a Christmas tree, it's a little dry but held together nicely by hand or by grinder.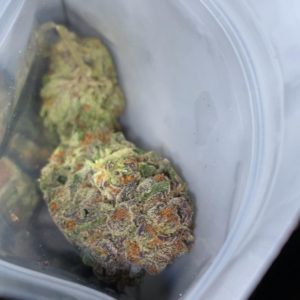 4. Smoke: No bubbler cough, bong yes. Leaves the room with a nice wave of smoke, not burning or anything on the sinuses, throat.
5. Taste: Getting a small bit of vanilla cleanse mixed with the earthy wood tones.
6. Reaction: Smooth stone that was about 45 mins to an hour. Switching this with others was a good reset. Plucking more bowls from the money nug throughout the week left us lifted and relaxed.
7. Conclusion: Couple days later, gf asked "what one is this?" Said "Ice cream bars" and she replies "yup like this one" 🙏🏻🤷🏻 Yee. Stone is nice and balanced.
8. Lift vs Ticket: "The Juice is worth the squeeze" as they say at my work.
#cannabiscommunity #cannabis #cannabisreviews #trees #weed #weedreviews #pot #potreviews #thc #sacramento #916 #420 #yee #legal #strainreview #california #valley #thehighestcritic #westcoastsmokeshow #loud #brokeboyz