Strain Review: Biscotti (Gelato #25 x Girl Scout Cookies x Gorilla Glue #4)
Biscotti
By @connected.california
Gifted by @@aetosdiosvip
Grower: Connected Cannabis Co.
Biscotti (Gelato #25 x Girl Scout Cookies x Gorilla Glue #4) Strain Review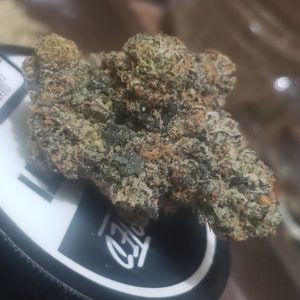 The Genetics on this rare indica dominant hybrid are triple hitter of Gelato #25 x Girl Scout Cookies x Gorilla Glue #4
Appearance – As soon as I popped the jar open I was starstruck, all I could say was holy shit it was almost to beautiful to smoke. I pulled the nug out and immediately saw a sugar covered candy land of trichomes sprinkled over one solid eighth bud, it was like you pulled it out of a box of frosted flakes, the colors where a earth green to dark green on the outside mixed in with blueish gray tones throughout the entire nug. Very sticky! When I broke the nug open the inside was smothered in glowing trichs and was a earthy green tone throught the inside.
Smell – in the jar Biscotti poured out a pungent nutty sweet funky cheese scent that smacked me right across the room, upon the grind the nose turned into a creamy sweet gassy vanilla treat.
Taste – I decided to roll a spliff for this review and couldn't be more ecstatic about it, upon the dry pull the sweet sugary notes really shined through strong, i sparked the jay and as the smoke spiraled into my mouth it was greeted with a very sweet cookie taste that went down very smooth, upon the exhale and a sweet milky choclate nutty taste slowly filled my pallet.
Effects – It was about half way through the jay that I noticed that I felt extremely relaxed in my arms, I decided to stand and i could feel this warm sensation that went from my feet to my neck, I finished the joint and lit my cigarette about halfway through that i could feel the stone creep up my neck to my head, a very clean and clear high, complete body and mind relaxation.
I recommend this strain for night time smokes or after a long day at work, great for stress and anxiety, smoke down and let it all drift away. If you are a newcomer to cannabis tread very fucking lightly but if your a long time indulgers go ahead and strap into the Delorean and get ready for a wild ride!
I give this strain ⭐⭐⭐⭐⭐+ the structure of the bud was flawless, scent 👍, and hit like Mike Tyson.
Thank you to @Aetosdiosvip
Top notch job @connected.california
Advertisements