Strain Review: Blucifer by Terraform Genetics
Strain: Blucifer
Who: @terraformgenetics
Lineage/Genetics: Conspiracy Kush x Blue Dream
Original Breeder: Terraform Genetics
Grower: Terraform Genetics
Dispensary: WHTC Studio City
Blucifer Strain Review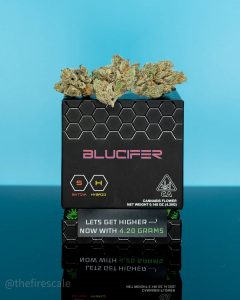 Stats: 20.02% THC 5.42% CBD
29.46% Total Cannabinoids
Aroma: Dryer Sheet, Lavender Feta, Rosemary, Eucalyptus Oil, Slight Woody Note.
Structure: Medium-Sized Nugs. Excellent cure, Sticky, Fresh. Hazy, Sativa-like structure, that looks like it's been squeezed into bushy indica nugs. A little fluffy and light.
Palate: Lavender, Juniper, Sage, Blueberry Air Freshener, Kushy Pine, lingering Dryer Sheet.
Effect: Medium Strength – Totally relaxing, slightly hazy.
Overall: It's difficult for me to go a couple months without stopping into WHTC. In my opinion, @terraformgenetics is one of the most slept on growers in LA. They fire out fresh, consistent quality for years, affordable 1/8th's, and new packaging with 4.20g instead of 3.5g 😏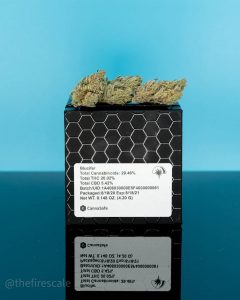 I twist open the seal on the jar and am enveloped with classic Blue Dream notes of fresh laundry, lavender and berry. These notes are easy to pinpoint, but there is a slight forest-like element underneath it all that resembles fresh chopped wood.
Body of the herb is light green admist a a sea of stark orange hairs; purple veins line the nugs making this bud look like some sort of lost sea creature. There's a little fluff on the squeeze, but it sticks to my fingers before dropping back into the jar.
This herb burns perfect, its airy structure provides enough airflow to clear a bowl with total ease unlike some indicas that are packed with extreme density.
Blue Dream lovers will weep over how soft and effervescent the smoke tastes and feels on the inhale. The exhale releases the slight shade of pine-like Conspiracy Kush on my palate, but finishes with floral flourish.
Also, note that this batch has a total CBD of over 5% making this a 4:1 THC:CBD flower. I know everyone is different, but every time I smoke a bowl of Blucifer I can actually feel a strong sense of relief, which is uncommon for me with my level of tolerance.
This is one of my all-time favorite strains.
The Fire Scale: 9/10 flame-ting-uh-rings
🔥🔥🔥🔥🔥🔥
Have you had any other strains from Terraform? What are your favorite Blue Dream crosses or have we moved past the strain?