Strain Review: Blueberry MAC by Maven Genetics
Strain: Blueberry MAC
Who: @maven_mvn
Lineage/Genetics: Blueberry Skittles x The MAC
Original Breeder: Maven Genetics x Capulator
Grower: Maven Genetics
Dispensary: Kush Alley
Blueberry MAC Strain Review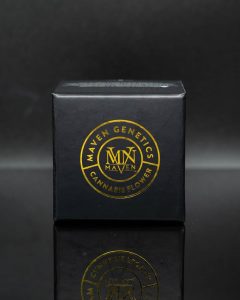 Stats: 28.092% THC – .056% CBD
33.073% Total Cannabinoids
Aroma: Pistachio Cake, Sour Citrus Candy, Mint, Rose.
Structure: Excellent cure, fresh on arrival. Easy to break apart, nice and sticky. Between a dozen or so jars, mostly small nugs, I had a very nice budtender who looked through multiple jars for the best nug to 📸 and we found a good one.
Palate: Skittles-Flavored Scented Candle, Play-doh, Sage, Lingering Creamy Floral notes.
Effect: Medium/Above-Average Strength. Euphoric head pressure in temples and beneath eyes. Small couch-lock effect with a clean overall body high. Feels like a 60/40 with a slight indica lean.
Overall: I was very excited to dig into this limited edition strain from Maven Genetics.
When it comes to showing off the goods, MAC is always ready to go out dancing, but this has got its ballgown on. Each nug, whether large or small is covered in frost. This looks like it was grown with complete exceptionally. 👏
While The MAC entertains the olfactory senses, Blueberry Skittles does its best to put on a good show, as it is the star of the show on the palate. The result: it gets booed off the stage.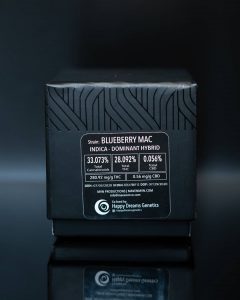 Strong, artifical fruit tones come in straight away on the inhale and fail to develop into anything pleasant on the exhale. A salty, dough texture comes in and finishes with a soft floral note from the Skittles. The smoke is extremely smooth, the effect is strong. But as a flavor-seeker, I'm a bit let down.
To be honest, I haven't had a zkittles strain that I've been blown away with yet, even the Moonbow 112 from Archive/Alien Labs was a bit underwhelming; I think I'm seeing the correlation here.
I did appreciate that Maven included a small info card that broke down some of the terpenes and some other info. We need that in every jar of product!
I have another strain from Maven ready to go and I still have high hopes, but personally, Blueberry MAC was a bit of a hyped up disappointment.
The Fire Scale: 7/10 flame-squawkers
🔥🔥🔥🔥🔥🔥🔥
Shout out to @cali.budshots for hooking me up with his old camera! Make sure to follow him for some killer shots 🔥🔥🔥
#cannaseur #nugshot #thefirescale #kush #weedstagram420 #strainreview #wesmokedifferent #indica #sativa #hybrid #cannabiscommunity #stayhigh #weedstagram #hightimes #smokeweedeveryday #blueberrymac #mavengenetics #mac #blueberryzkittles #zkittles
Advertisements