Strain Review: Blueberry Muffin by Yerba Cannagar
Blueberry Muffin
Cultivated by @juany_420 @yerbacannagar
Bred by @thehumboldtseedcompany
Lineage/Genetics: Purple Panty Dropper x Razzleberry Kush F9
Original Breeder: Humboldt Seed Company
Grower: Yerba Cannagar
Blueberry Muffin Strain Review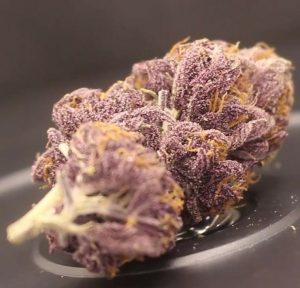 Appearance – This one pheno stuck out the most out of the samples I recieved, a beautiful fat dense nug, that was perfectly trimmed, dried and cured. Solid deep purples encompass the entire nug not one lick of green(I love my purples), burnt orange pistils wildly wrap around the flower and the trich coverage was quite abundant as my mouth began salivating at the deliciousness of this indoor craft cannabis.
Smell – From the outside of the bag I could smell the fruitiness that awaits me, straight blueberry terps smack me heavy kind of like when you blend up fresh blueberries for a smoothie, on the back end there is a slight doughy cake like scent that is absolutley to die for. Once broken up the musk of a sweet creamy pan of fresh baked blueberry muffins fills the room and leads me into temptation of filling my lungs.
Taste – On the inhale of my bong my tastebuds were met with a nice smooth and floral bouquet, there is a hint of a berry on the back end, just a nice good clean inhale with nice flavor, out of a bowl I recieve very much the same experience, on the exhale I got a nice smooth organic hit with a hint of that berry not strong but there nonetheless. Just an all around great toke.
Effects – It took about 3 rips for the stone to settle in a little, it hit my head first as I was focused and clear headed but could feel that buzz just building up more and more,as time goes by the high began moving to my legs giving them the old heavy cement shoes, I am calm and relaxed but could see how this may be overwhelming for people new to toking, as there is a nice speedy zing floating about my entire head. The stone was heavy and had me nice and medicated.
This cut of Blueberry Muffins was straight 🔥most blueberry strains I have had are more of a mellow high but oh not this one, @juany_420 crushed this strain and all the samples were killer, like the squirt pheno that smelled like straight funky grapefruit gas.
5 plus stars straight crushed it out of the park
And to @thehumboldtseedcompany, many thanks for releasing these flavorful terpy strains that are absolutley killing it.