Strain Review: Bars Mac510 by Broke Boyz
New New Happy Review!
. @gotbars510_ @gotbars51oh
. @terpenstein41510
. @stickerfarmer
. @westcoastsmokeshow
Brand: Got Bars
Strain: Bars Mac510
Lineage/Genetics: Unknown
Original Breeder: Broke Boyz
Grower: Broke Boyz
BarsMac510 Strain Review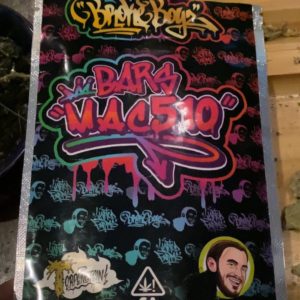 24.83%THC
Comments: Aloha fam! There he is! The myth that is the dude from Forbes 👀🤣 if you know you know. Scooped from Lemonnade
Review
1. Scent: Little mix of rubbery goo with an old school note of a citrusy peel.
2. Appearance: In the bag it was one thing, in the tray tho…kinda sad. The nugs are def C and smaller, one nug was larger than the rest but these were absolutely coated with trichomes. Looked like it was rolled in kief, which ended up all over the bag. Lots of what I thought was shake but it wasn't shake at all, just the bottom of the bag bag. Lulzzzzzzzz
3. Nug Structure: Rock dense bud that would dust in a grinder so I opted for hand grinds. Def one of the dense but small strains I've picked up as of late.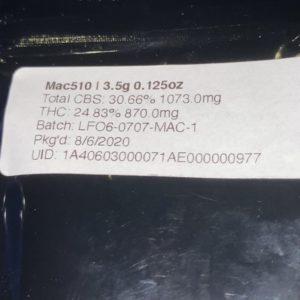 4. Smoke: Smooth as a silk sheet off the bong, bubbler, and joint. No cough for me or the lady and I just know she usually coughs but nothing on this. 🤔
5. Taste: "This tastes good" – the lady. Winning. It's more of a zest of dull citrus with a cool flavor of that gooey kinda rubber. Maybe a tip of pine.
6. Reaction: Fantastic for daytime smoking, it was fast on the head change while the body took a few mins to roll later. High was there for about an hour. Pretty relaxed but also a little busy in the brain. Could see someone going hard on their SoundCloud 🤣
7. Conclusion: Steady high and good taste. I'd buy again sure, but not knowing the nugs were on the smaller/dense side threw me a bit. That's that mylar life tho! Lulz! Reality is that I've had a good experience with this cut and would def share with friends.
#cannabiscommunity #cannabis #cannabisreviews #trees #weed #weedreviews #pot #potreviews #thc #sacramento #916 #420 #yee #legal #strainreview #california #valley #thehighestcritic #westcoastsmokeshow #loud #gotbars #gotbars510 #thereheis #brokeboys #stickerfarmermadeit #BarsMac510 #510 #Mac
Advertisements