Strain Review: Churros by Seppy's Nursery
Last review of the month!
. @highmart__
. @churros.831
. @trunorcal420_ (backup)
. @westcoastsmokeshow (team)
. @lemonnadesacramento (shop)
***Hats & Slaps giveaway soon!***
Brand: HighMart x Seppys Nursery
Cultivar: Churros
Lineage/Genetics: Unknown
Original Breeder: Unknown
Grower: Seppy's Nursery
Dispensary: Lemonnade Sacramento
Churros Strain Review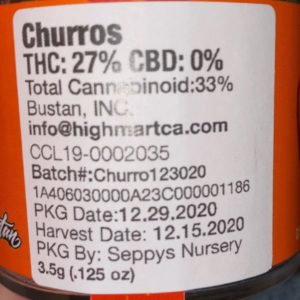 27 %THC
0% CBD
33.0% Total Cannabinoids
Pkg Date: 12/29/2020
Harvest Date: 12/15/2020
Comments: Gotta love new brands pushing hard on IG to get into shops, it's a journey! Been seeing this land across all the shops at the tail end of 2020 and I'm finally posting the review.
Review
1. Scent: Getting a sweet spice pine combination at first. Couple days later in a drawer chillin, I'm now finding more spice than sweet.
2. Appearance: Nice coloration. A majority of the nugs have purple hues, sparkling trichomes and a couple stringer hairs as well.
3. Nug Structure: Fluffy flower for sure on breakdown. Pulls without force but when using the grinder, it releases additional sweet tones.
4. Smoke: Really nice off the bubbler, clean also off bong for night caps. Not having a cough fit, chest is a little snug on inhale.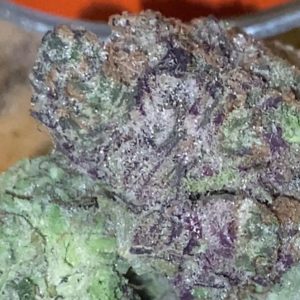 5. Taste: Nice crisp at first, then a deep chest bulb of a danky woods, final exhale is a little sweet. Mouth is watering for sure. First smoke of the day for me and I'm loving this taste.
6. Reaction: Eyes are noticing a haze gloss to em. Focused on gamin some Warzone. Not doing well. Lol. Checking back in a few. Super stoned now. Prob 45 mins in and I could use a refill but I'll ride it out, see how long total duration goes.
7. Conclusion: Just finished dinner, smoked one bowl, total long duration 90 mins. That's def a heater, the reactions were long standing with a long ass high. Yet, I didn't find myself thrown off. Pretty even stone and Would def recommend. Enjoyed this one.
#NoHashTagz