Strain Review: Devil's Spit by King Klone
Devils Spit 👹💦 Review
Lineage/Genetics: Afghani Kush ❎ Purple Kush ❎ Phantom Kush
Original Breeder: Unknown
Grower: King Klone
Distributor: Helios Distribution
Dispensary: CA Collective
Devil's Spit Strain Review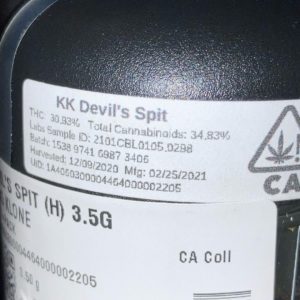 .
30.93% THC
34.83% Total Cannabinoids
.
@kingklonebrand
@cacollectivesj
@westcoastsmokeshow
@theheliosco
@genxtech @genxbiosciences
.
👹Beautiful, fern green outer leaves with deep with purple hues. Sticky trichomes are caked on to the flower giving it a nlburnished finish with bold, radiant, fiery orange pistils. As you break the flower down you can see vivid steaks of purple and violet through lighter greens as you near the stem. The big, chunky, super resin-y, nugs are beautifully crafted and super satisfying to gaze at.
.
💦There are several layers of aromas that come with this beautifully bold flower. The first layer has a sweeter, buttery, almond tone. The 2nd whiff your nose adjusts and you smell a strong odor of skunk, earth and spice, after that you get a deep cut of lingereing sour pine like lysol. Of course its not as spicy as Famous Daves signature hot sauce but I can see a where the name correlates, when you think about the unique mix flavors this flower is packed with 😂.
.
🔥Spicy peppery skunk flavor with a nutty pine undertone. The skunk and nutty flavors battle the spice and pine through every hit creating a menthol feel that carries your high straight to where ever you need it most.
.
🌴Potent , fast acting high. The high for this is pretty intense, you'll get nice rush through your body that at initially pushes you to be more ambitous and creative, blanketing your mind with euphoria accommpanied by absent mindedness and zoning out. Youll feel a nice buzz throughout your body relieving any aches or pains and relaxing you deeper until succumb to total body sedation. A really good strain for anytime especially at the end of more busy days as the world starts to open up again.
Advertisements