Strain Review: Easton's Cut by Kings Garden
Rollin thru this weekend with another @kingsgarden.ca review of #eastonscut make sure to follow @westcoastsmokeshow for more content!
Strain: Easton's Cut
Lineage/Genetics: Ice Cream Cake
Original Breeder: Kings Garden
Grower: Kings Garden
Easton's Cut Strain Review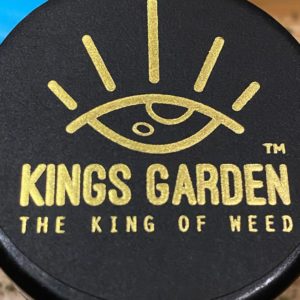 21.10%THC
Comments: Lower THC than the Kings Cake from #TTT review, but this was a good one for me. Clean high and giggles. Pleasure doing business with the Easton.
Review
1. Scent: Little bit of GMO smell with a bitty hit of purps maybe. There was a just a tinge of watermelon on the very back end of the palette too.
2. Appearance: Gorgeous looking purple nugs with orange hairs busting through. The trim job on this is outstanding tbh.
3. Nug Structure: Dense puppies for B grade nugs. Falls apart with force, which is typically a good sign for the grower I've found. Didn't lose much moisture over the course of the jar so it was cured just right for me.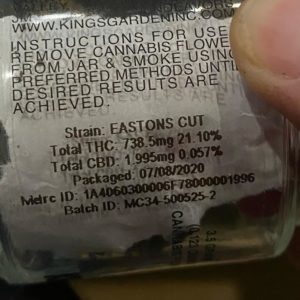 4. Smoke: Nice roll off the back of the throat with zero cough off the bong. Very smooth on the pull with no chest grab. Little bit of tingle in the nose. One rip from the bubbler left a nice cloud in front of the tv. Shit was LOUD for sure. I smoked first bowl, one hit and was litty for over an hour. I have had some hits and misses from multiple brands and this was hitting.
5. Taste: Purple and GMO tastes, then pushes past to a type of organic taste I can't really place my fingers on. After further taste trials it's that watermelon-ish organic flavor. 🤷‍♀️
6. Reaction: Giggles for sure on it. Head change was slow 5ish mins but sustained for about an hr or so. A follower on their main page said some stuff about a stuffy nose n such, but so far I didn't find it reacting/happening for me that way
7. Conclusion: Last review I had for King's left me wondering what else they had to offer. And I'm so glad I got this to off set the cake. I read one reviewer say the tree left them with congestion and stuffy nose but I didn't find it…I'd buy this again if available with out a doubt. Yee
#cannabiscommunity #cannabis #cannabisreviews #trees #weed #weedreviews #pot #potreviews #thc #sacramento #916 #420 #yee #legal
Advertisements