Strain Review: LA Wedding Pop by Sweetwater Pharms
New Review @sweetwaterpharms let's get to the deets:
Brand: Sweetwater Pharma
Strain: LA Wedding Pop
Lineage/Genetics: Wedding Cake x Triangle Kush bx2
Original Breeder: Seed Junky Genetics
Grower: Sweetwater Pharms
Sweetwater Pharms LA Wedding Pop Strain Review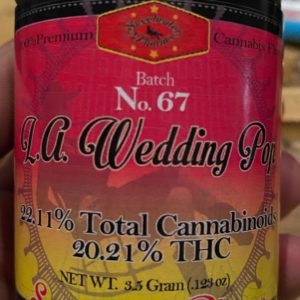 20.21%THC
Comments: Big big fan of Sweetwater. I had the pleasure of trying this cut during the early COVID19 days, but seemed to have not uploaded a review! So I got it again to share some of my experiences.
Review
1. Scent: Cross between a creamy candy mixed with floral, purple/berry tones. Fingers are left with more on the breakdown.
2. Appearance: Holy Trichomes. It's coated and looking bursty like a sunflower almost. Purple in some spots and tight packed red hairs are just coated.
3. Nug Structure: Dense guys that did dry out a bit more over time. I've been skipping the rehydration methods these last few weeks but it could have used an orange peel.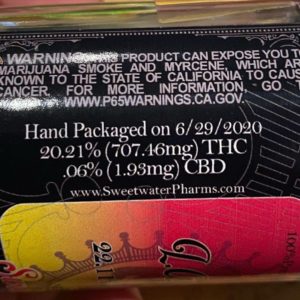 4. Smoke: No harsh reactions, no throat irritation. Smooth. Lovely off the bong just before bed.
5. Taste: Little bit of wedding cake and some cream vanilla on the back end. Treats your palette nicely. The purp vibes lasted a few seconds then fell off.
6. Reaction: Slow to full stone but once there I'm stuck. I rationed this guy to smoke before bed over the last few weeks and noticed the dreams were lucid and body was rested. I wouldn't smoke this during the day but that's just me.
7. Conclusion: Would buy again for sure. Always a fan of Sweetwater and this is one of their better cuts I've had in rotation these last few months. This strain specific left me uplifted, relaxed and sleepy. As stated, it's not a daytime strain for me but if ya like heavy, here ya go.
#cannabiscommunity #cannabis #cannabisreviews #trees #weed #weedreviews #pot #potreviews #thc #sacramento #916 #420 #yee #legal #strainreview #california #valley #thehighestcritic #westcoastsmokeshow #laweddingpop #Holla
Advertisements