Strain Review: GG4 by Nug Farms
GG4 🦍🦍🦍🦍 Review
Indoor Indica Dominant (67/37) Hybrid Cannabis
Lineage/Genetics: Sour Dubb x Chem's Sister x Chocolate Diesel
Original Breeder: GG Strains
Grower: Nug Farms
Dispensary: Canna Culture
Nug Farms GG4 Strain Review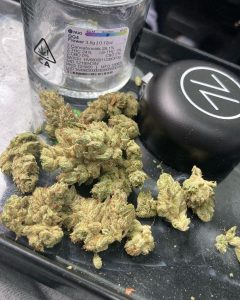 .
24% THC
1% 🔺9THC
28.1 % Total Cannabinoids
.
@nug @nugfarms @nugflower
@cannaculturesanjose
@larryjunetfm -🎼🎵Work
s/o @ko_smokez for picking this out.💯🤙🏿🖤
.
🦍The breeders literally saved this cross from the garbage in 2014 and since has won the @Hightimes Jamica World Cup, the @Cannabiscup amoung other awards. You may also know the strain as Orginal Glue.
.
🔥Super frosty denser ,chunky cone shaped nugs with some kolas (embedded with thick, visitor chocolatey orange stigmas )branching out giving it a wilder look. The flower has a deep, vivid, forest green color.
.
💯Creamy ,chocolatey tones blanket a potent and vigorous fuel like pine aroma with peppery hints that create a sour mustard like aroma. The flavor is sweet with sour earthy hints created by the potent chocolate undertones and diesel mix.
.
🖤Potent, long lasting high and flavor and aroma. Heavy relaxation and euphoria will leave you glued to your seat and glued to whatever is in front of your eyes. Great for insomnia, fatigue, and overall body and mind relaxation.
.
Advertisements