Strain Review: GMO-Nana by Mendo Inc.
GMO-Nana 🍌🧬 Review
Lineage/Genetics: Garlic Cookies x Banana Punch
Original Breeder: Symbiotic Genetics
Grower: Mendo Inc.
Dispensary: Canna Culture
GMO-Nana Strain Review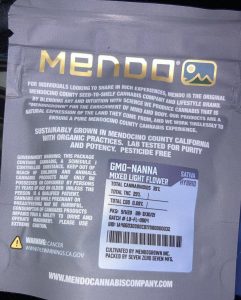 greenhouse sativa dominant hybrid
mixed lite flower
.
@mendo.inc @cannaculturecorp
.
35%total cannabinoids
29%Total Thc
0.09% Total Cbd
.
4 months late but here it is.
🍌flavors i can taste are banana ,earthy, unique gmo diesel.very consistent and potent,gassy on the lungs making for a nice heavy smoke.
🧬Big kushy nugs like a BananaOG and very sticky and covered in trichomes like GMO strains tend to be. Great structure when breaking down by hand, maybe best used with a grinder due to how sticky your hands will get.
.
💰Shiny Trichomes stick to dense big nugs giving off a nice sparkle. In the video you can see a few different hues of green (mostly light greenish yellow near the stems developing into a darker evergreen and forest hues as the leaves branch out.)
Thick orange stigmas with brown tint match the boldness of the look of this flower(both definitely match its potency)
.
🔥Fast acting, the first 2 puffs really go straight to your head. A very slow burn
great for tension and stress relief. Near instant mind calming and clearing effects followed closely by satisfying body relaxation. Sparks ambition and creativity that's great for socializing and conversation. Kick back while you watch the game with friends youll enjoy the flavor just as much as you enjoy your high. A super potent and long lasting high.
Advertisements