Strain Review: Heavy Cream by Cream of the Crop Gardens
Heavy Cream 🦍🍪🍦 Review
Hybrid
Lineage/Genetics: Gorilla Glue 4 x Cookies and Cream
Original Breeder: Cream of the Crop Gardens
Grower: Cream of the Crop Gardens
Dispensary: Haze Dispensary
Heavy Cream Strain Review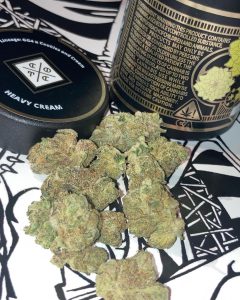 .
29.55% THC-A+ 🔺9
30.89% Total Cannabinoids
Top Terpenes
ß-Caryophyllene .36%
ó-Limonene .28%
ß-Myrcene .24%
.
@cotc_gardens @haze408
.
🦍Medium and small sized nugs dusted with sugary trichiomes. Forest , Artichoke, Amazon and Moss green mixes cover most of the flower as bold purple hues of grape and eggplant show through the the greens. Mini clusters of short burnt amber stigmas nestle in between nearly every pocket of space they can ;seemingly being a catalyst for purple hues upon a closer look at the flower.
.
🍪The nugs break down perfectly and fill more of the blunt than you'd expect at 1st glance. Upon opening the jar you get deep heavy scent of musky earth/wood with a warm sweet creamy undertone. You can also taste the musky earth and cream mix with nice surprising citrus hints.
.
🍦Heavy, potent and a super smooth smoke. It feels like you're breathing in a cloud of relief. Stress relieving effects act immediately while you feel your muscles pain seemingly melt away, ultimately inducing a blissfully euphoric high. You will definitely feel this strain hit your body but it does work to keep your mind stimulated, really a good strain for the end of the day or when you have time to enjoy your high and soak in all the benefits.
.
🏋️🏿‍♂️I definitely became an automatic fan of COTC after this experience. From the jar to the flower its self, they really found a way to spoil connoisseur's and enthusiasts with the amount of information readily available and the overall quality of the product. The only thing i would ask for are bigger nugs. According to their site, the black jars have the highest quality flower(25%~32%) with terps, flavor and smoothness all designed with the cannabis connoisseur in mind.
Advertisements