Strain Review: LA Woman from Curaleaf
The LA Woman came out strong after the Opening Strain Games Ceremony. The award winning DNA Genetics showed up Big Time.
Lineage/Genetics: LA Confidential x Martian Mean Green
Indica or Sativa: Indica dominant Hybrid
Original Breeder: DNA Genetics
Grower: Curaleaf
Dispensary: Curaleaf
LA Woman Strain Review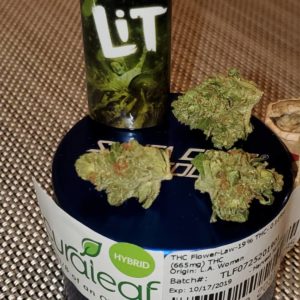 A cross between LA Confidential and Martian Mean Green, with her dark shade of vibrant frosty green she was easily noticable out on the playing field. Posessing a dank rich smell she could not hide too well. I love the smell on this strain. Thanks to Curaleaf for this strain probably my favorite overall from them. LA Woman participated fiercely and possessed a one of a kind taste but in the end she came just short of the gold.
At the Strain Games Medal Ceremony the LA Woman was awarded the Silver Medal 🥈 but she may be gold for you. I would like to mention that I would purchase this strain again in the future. This batch was at 19% and I have seen previous batches even higher. No regrets on this one. Nice for Netflix and chill relaxing afternoon.
Was really cool to see the Great White Shark Strain and Lambs Bread further back in the genetics on this one with the LA Confidential side being LA Affie, Afghani, OG etc. Very nice, chill, relaxing effects. Feel good Strain that is a delight to smoke taste lingers a while. Could get lazy as you go heavy but overall relaxed but lifted and slightly energetic can do what I need to still. 7.5/10.
#dnagenetics #dnageneticsamsterdam #dnageneticsseeds #flamedicalmarijuana #flmmj #flmmjpatients #indicahybrid #lawoman #laconfidentialstrain #curaleafflorida #marijuanareview #marijuanareviews #curaleaffl #rawhempwick #gasgas #straingames #straingamez #strain_games