Strain Review: Lemon Cherry Gelato by Cannatique
Lemon Cherry Gelato Pre-Roll
By @thecannonco @backpackboyz420__41510 @______backpackboyz420 @5_points_la @5points.la
Lineage/Genetics: Sunset Sherbert x Girl Scout Cookies x Unknown
Original Breeder: Unknown
Grower: 5 Points LA x Cannatique
Processor: The Cannon Co.
Distributor: Backpack Boyz
Lemon Cherry Gelato Strain Review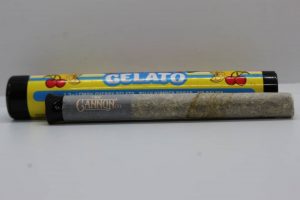 Gifted by @son_of_washington
Appearance – The label of the product was quite eye catching with all the colors screaming at you and had a very nice design to the packaging, I feel like it would make you want to check it out just by catching the packaging. As soon as the tube is popped out slides a beautifully rolled joint sealed with no saliva, attached at the base is a awesome reusable glass tip that really opens up the airway for the smoke to just smoothly roll into your mouth, Now I have had several other @thecannonco pre rolls before and they have never let me down so I am holding this to a high standard, also I did not want to gut this pre roll so the quaility craftsmanship is not deminished.
Smell – Off the bat I could smell the citrus pouring out of the tube straight lemons! That than married together with a gas and a slurpee like cherry flavor, truely a fine set of terps radiating from this cut tying it all together wonderfully.
Taste – On the dry pull the citrusy lemon sweetness was the first thing to hit me, a cherry flavor slowly works its way into the equation like a cherry koolaid or Hawaiian Punch, on the back end I get notes of the gas that leave me anticipating the deliciousness that awaits me. As I took my first puff my palette filled with a thick smooth and creamy smoke, notes of citrus, fruit and a spicy gasy gelato, on the exhale a very smooth creaminess with a hint of earth.
Effects – I could feel the buzz building in my body moments after a few pulls, around half way I was forgetting to take notes that I was saying to myself, feelings of an intense euphoria begin to build from my head down to my feet and I am incredibly relaxed, around 3/4 I tapped out and put it out, I am completely ripped out my mind. I reccomend this for experienced tokers, the come of the strain plus the kimber sugar will do an absolute number on you.
5 + stars on the pre roll and 5 + on the strain ⭐⭐⭐⭐⭐⭐⭐, absolutely killer job by all parties involved!!!! Keep up the solid work. This pre roll smoked amazing, had little to no runs and did not have any issues with it going out, if you want flavor, potency, quality and fine craftsmanship in a pre roll than look no further you've found it here! Don't sleep you'll be missing out.
Thank you to @son_of_washington for another killer gift!
#cannasuer #initiative71 #i71 #cannabiscommunity #dcweedevents #massachusettscannabis #massachusettscannabiscommunity #worcestercannabis #designerweed #backpackboyz #5pointsla #cannabisreviews #weedreviews #420reviews #dccannabiscommunity #californiacannabis #thecannonco #lemoncherrygelato🍋🍒🍨
Advertisements