Strain Review: Mendo Ultraviolet by High Noon Cultivation
I haven't had the OGKB from @high_noon_cult, but this Mendo Ultraviolet (Mendo UV) is probably the frostiest and best looking strain I've seen them run. Super unique terpene profile, and the trichomes are in practically mint condition. @tetra.pdx and @oregrownindustries are my go to spots for flower from these guys, this batch is from Tetra.
Lineage/Genetics: OGKB x Mendo Montage
Original Breeder: High Noon Cultivation
Grower: High Noon Cultivation
Mendo Ultra Violet Strain Review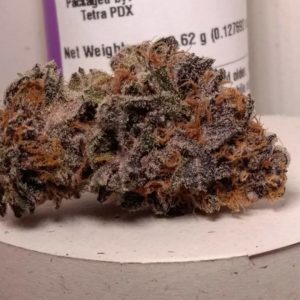 Now that I've praised it, let's get into my gripes with it. The terpene profile was super heavy on those musty, savory, meaty notes. While that usually is a huge plus in my book, the flavor that came through in the smoke wasn't the most enjoyable thing in the world for me. Kind of a stale, one note flavor that just didn't thrill me. This is my first time trying the Mendo UV, so I don't know what it's usually like. It sounds like the farm got a new (head?) gardener around the time they were running this batch, so I'm very happy to give them a pass this time. Issues happen during transitional periods.
This is the stoniest offering I've seen from these guys. If you smoke even half the High Noon weed I do, you know that's really saying something. It's got one of those brain melting, body leveling stones that'll fuck up some insomnia. My anxiety has been on one recently, and this definitely triggered it for me a few times, but that doesn't mean it'll be like that for you. Not everyone has superhuman anxious tendencies like me.
Overall, this is one I'm gonna try again when my life is more in order. I want to see what this shit is like in its best form. I don't think I got it this time around, but even then, the terp profile isn't the same Cookies and dark fruit shit that's been dominating the market lately. This may not be it's best form, but it still catches a recommendation from me.
On an unrelated note, can people please stop conflating decriminalization with legalization? What Oregon just did with all drugs is the same "legal for white people with money" shit we have with weed in most of the damn country. This is a good step, but it doesn't address the overdose epidemic or any of the racist issues born from the War on Drugs. Progress is good, but we need actual solutions, not tolerable small steps.
#thehighestcritic #strainreview #strainreviews #weedreviews #420review #portlandcannabis #OMMP #portlandweedreviews #MMJ #oregoncannabiscommunity #portlandcannabiscommunity #oregonweedreviews #Medicate #oregoncannabis #PNWStoners #PDXcannabiscommunity #pdxcannabis #pdxstoners #cannabiscommunity #cannabisreviews
Advertisements