Strain Review: Mochilato by STIIIZY
Mochilato 🍡🍨 Review *latepost
Lineage/Genetics: (Sunset Sherbert ❎ Thin Mint GSC)
Original Breeder: SHERBINSKIS
Grower: STIIIZY (LIIIT)
Dispensary: Canna Culture
Terpene Profile: Unknown
Mochilato Strain Review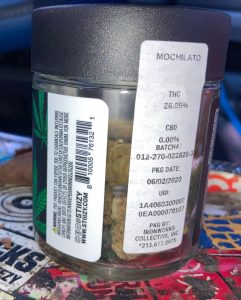 .
26.05% THC
.
@stiiizy @stiiizynation
bred by @sherbinski415
@ironworkscollective
@cannaculturesanjose
.
Named after the Japanese frozen dessert for the similarities in taste, Mochilato, was bred by SFs own @sherbinski415 . Other common names for this cross are Gelato 47, Mochi, or Mochi Gelato
.
@ko_smokez actually gave me my first Mochi Ice Cream yesterday because I enjoyed this strain so much and I honestly didn't like the texture of the real thing at all😂.
.
Similar to the dessert , you can taste a sweet vanilla creamy mix of floral earth and berries. As you innale theres note of creamy earthy and vanilla with hints of floral mint and berries becoming more potent as you exhale and overtime as you get used to it. The smoke was flavorful and pretty smooth though it could be heavier, some puffs were significantly harsher than others but overall a great smoke.
.
Strong euphioric, relaxing effects that carry some creative qualities. Your body and mind relax to a place of controlled ambition. Youll feel stress free but motivated to do something fun and easy going and engaging. Great for end of the day smoke sesh its like eating a dessert before bed.
.
The nugs are pretty wild looking, the flower seemingly gives off 2 phenos. 1 pheno shows a fern green with violet showing up in hints through the nug and even some purple completely covering some outer leaves. The pistils are short and amber orange in color and its trichomes give off a nice sparkling glow.
In the end other pheno you can see, the flower has a deep dark purple color with some dark green mixed in. As you break the flower down you can see the colors collide as ypu get closer to the stem a nice mix of purple, green and even some yellow blend together. Trichomes coat the flower giving a finish that makes it look encrusted with diamonds like dust.
Advertisements